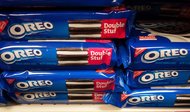 Mandel Ngan/Agence France-Presse — Getty ImagesOreo is one of the several brands owned by Mondelez International.
10:28 a.m. | Updated
Nelson Peltz's Trian Fund Management has taken a $2.7 billion stake in PepsiCo and Mondelez International, according to people briefed on the investment.
The investment by Mr. Peltz, a longtime shareholder activist, has raised speculation that he could be seeking a position on the boards of both companies. The stake also raises questions about whether Mr. Peltz, who has pushed for spinoffs and mergers at other companies that he has pursued, will press Pepsi to spin off its Frito Lay unit and merge it with Mondelez, which was the snack business spun off by Kraft last year.
PepsiCo said Friday that it had held meetings with Trian Fund Management but did not reveal the nature of the discussions, but both companies have many prominent snack food brands, which could make a strategic fit. Mondelez owns several well-known brands worldwide including Ritz, Oreo and Toblerone.
"In recent weeks, we have held meetings with Trian to discuss and consider their ideas and initiatives as part of our ongoing evaluation of all opportunities to drive long term growth and shareholder value," Pepsi said in a statement. "Trian is a respected investor, and we look forward to continuing constructive discussions with them."
A Trian spokeswoman declined to comment on the matter.
A Securities and Exchange Commission filing on Friday revealed that Trian Fund had increased its stake in Pepsi to $269 million as of the end of 2012, and that it had taken a $494 million stake in Mondelez. But people briefed on the investment say that the Trian stake in both companies is actually worth $2.7 billion, with $1.4 billion in Pepsi and $1.3 billion in Mondelez.
Article source: http://dealbook.nytimes.com/2013/04/19/pepsi-confirms-talks-with-nelson-peltzs-trian-fund/?partner=rss&emc=rss