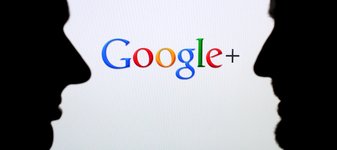 Julian Staratenschulte/European Pressphoto Agency
Google's mission to compete with Facebook in social networking may be gaining speed.
On Tuesday Paul Allen, a researcher, published an analysis saying that Google+, the company's social networking service, has reached 62 million registered users. More important, one-quarter of all users signed up in December alone, he said, putting it on a path to sustained global growth.
Mr. Allen has an admitted self-interest in seeing Google+ succeed; he makes applications designed to be used on social networks. And his methodology in coming up with the number of users is innovative, and not exactly ironclad. He gathered from the United States Census Bureau a list of 400 surnames that are uncommon in the United States, like Distler, Wooding and Loup. Using Elance, a Web site where freelancers bid for jobs, he got a count of the number of people with those names on Google+, and extrapolated from his list what those numbers say about the overall population of Google+.
Over time, Mr. Allen has changed the mix of names to try to reflect the number of people on Google+ outside the United States, where some of those names might be more common.
Mr. Allen also tracks his estimates against information Google provides about the population of Google+ during its quarterly earnings calls. In July, Google said Google+ had 10 million members. In October, the number was 40 million. Google does not supply additional information about the population of Google+.
In Mr. Allen's analysis, the high percentage of new users matters, because it would mean Google is getting people to join at an accelerating rate. "It's gaining 625,000 people a day," Mr. Allen said in an interview. "In the last week of November it was signing up 199,000 a day." By the end of this month, Mr. Allen thinks Google+ will have 65 million users. When Google next announces its earnings in mid-January, he said, "I expect Larry Page will announce they have 75 million people."
Maybe so, but a more important issue is whether an acceleration in sign-ups will continue. There is some reason to believe it will, because social networks tend to become more useful to people as more people they know join them, and keep them entertained with status updates and links to other things on the Web. Also, new versions of Android, Google's mobile operating system, will have automatic signups for Google+. That will drive traffic, possibly along with some usage-killing resentment from being dragooned into yet another social network.
"Projecting my numbers linearly, they'll have 293 million people by the end of 2012," Mr. Allen said. But, he added that he thinks things will really speed up, to 400 million users. "I'm very bullish," he said.
While that number is still less than the minimum of 800 million people that Facebook claims (and its total is probably much higher than that, because Facebook would like to file for its initial public offering with some kind of eye-popping number), it would make Google+ the second-largest social network within 18 months of introduction.
Mr. Allen's analysis doesn't look at the important statistic of total time spent on Google+ per user, and whether that is increasing. That number tends to show loyalty, and provides advertisers with more clues about what to pitch users while they are on the site. Facebook's new Timeline feature, which allows people to insert older photos and mementos to create a narrative of their lives, will probably increase time spent on Facebook, as well as decrease the chances that people will leave that site. Timeline will also, Mr. Allen noted, enable more app discovery, as people see what games, sites, and social tools their friends are using.
Mr. Allen's guess about the population in Google+ is not the highest one around. Last week the Global Web Index analysis firm claimed that Google+ had 150 million members. But it didn't say how it reached that figure.
Article source: http://feeds.nytimes.com/click.phdo?i=6adf6a95d0b59e98dae93d720fcdb208