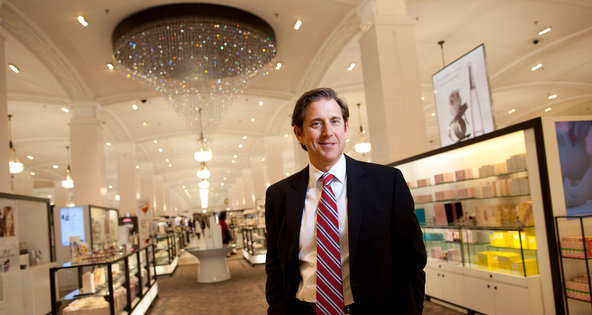 Robert Caplin for The New York TimesRichard Baker, who acquired Lord Taylor and Hudson's Bay, in the Lord Taylor store on Fifth Avenue in Manhattan.
Two of the oldest department store chains in North America are on the verge of a public stock listing.
Plans for an initial public offering are in the works for the Hudson's Bay Company, the parent of The Bay stores in Canada and Lord Taylor in the United States, according to two people briefed on the talks. A listing, which is expected to be on the Toronto Stock Exchange, could come before the end of November, these people said.
A successful I.P.O. would be a windfall for Richard Baker, the New York real estate developer-turned-retailer. In 2006, just before the markets seized up, Mr. Baker acquired Lord Taylor for $1.2 billion. He later acquired Hudson's Bay and merged the two into a single company.
Skeptics derided Mr. Baker's purchases as top-of-the-market deals of two once-storied, now-tired chains. But Mr. Baker, by all accounts, has made improvements in both brands. Lord Taylor, which has about 50 stores, has increased sales by remodeling its stores and offering more fashion-forward merchandise.
As much as 20 percent of the company could be sold to the public at a valuation of between $2.5 billion to $3.5 billion, according to these people.
A spokeswoman for Mr. Baker declined to comment. The New York Post earlier reported on Hudson's plans.
A Hudson's Bay deal comes at a time of uncertainty in the I.P.O. market. New stock issuance has cooled since the disappointing performance of Facebook after it went public.
A share listing in Canada, however, has certain advantages for Hudson's. Because Canadian law requires that its pension funds and mutual funds own a certain percentage of Canadian stocks, Hudson's could have a more natural set of buyers. (The Canadian stock market also has a paucity of publicly traded retailers and an outsize number of natural resource companies.)
Hudson's is one of a number of retail chains that went private during the leverage buyout boom that are weighing I.P.O.'s. Retailers including Neiman Marcus, Michaels Stores, Toys "R" Us, and Burlington Coat Factory are owned by some of the nation's largest private equity firms, which are all looking for the right opportunity to take these companies public.
Article source: http://dealbook.nytimes.com/2012/09/05/lord-taylor-owner-hudsons-bay-explores-i-p-o/?partner=rss&emc=rss