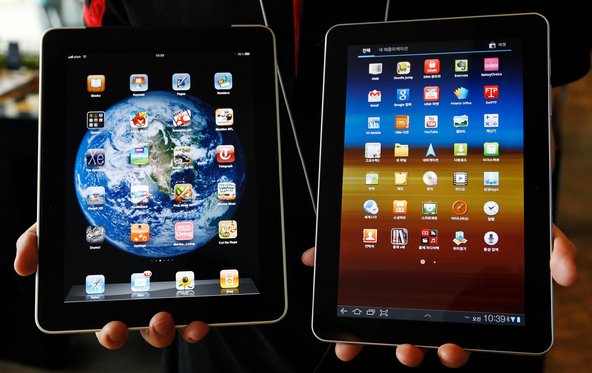 Jo Yong-Hak/Reuters Apple's iPad, left, and Samsung's Galaxy tablet.
8:45 p.m. | Updated
A federal judge on Friday weakened the blow from Apple's legal victory in a patent case against Samsung, lopping more than 40 percent off the damages a jury awarded Apple last year.
The ruling did not shift the case — one of the most closely watched in the high-tech industry — in Samsung's favor. While Apple has lost other skirmishes against Samsung in courts around the world, the jury award in this case has been the biggest victory for either side so far.
Even at a reduced level, these would be among the highest damages in a patent dispute.
The judge ordered a new trial to recalculate a portion of those damages, leaving open the possibility that some of them could be restored.
She also indicated that Apple was entitled to additional damages for sales of Samsung products that have occurred since the jury's decision last summer, which could further swell the amount Apple is owed by Samsung.
Tech companies around the world are waging legal battles over patents as they compete for supremacy in the lucrative smartphone market. Apple and Samsung are the most prominent combatants in that war; the two companies divide most of the profits in the surging mobile phone market.
Samsung has soared to the No. 1 spot in the smartphone business in recent years, but Apple says that it is, in part, because the company has swiped many of Apple's ideas.
In her review of the jury's decisions, which originally awarded Apple more than $1 billion for patent violations by Samsung in its mobile products, Judge Lucy H. Koh of the United States District Court in San Jose, Calif., knocked those damages down by $450 million, to $599 million. The new trial will determine how much of the $450 million, if any, should be restored.
"It will be years before the parties exhaust all of their litigation avenues and options," said Alan M. Fisch, an intellectual property lawyer with Fisch Hoffman Sigler in Washington, who is not involved in the case. "Still, some form of patent cross-license between the two would not be an unsurprising final result."
None of Judge Koh's opinion changed the jury's finding that Samsung violated a series of Apple patents in its smartphone and tablet products. But the judge took issue with how the jury calculated the damages Apple was entitled to from the Samsung devices named in the case, more than two dozen of them in all.
In her 27-page opinion, Judge Koh said that the jury failed to follow her instructions in calculating damages for a certain class of patents, known as utility patents.
She also decided in Samsung's favor in a dispute between the two parties over when Apple notified Samsung that it was infringing Apple's intellectual property. Evidence of such notice dates are important because they help determine how hefty the damages are in a court case, once the party being notified is found guilty of infringement.
Judge Koh chided Apple for using an expert in the case who used an "aggressive notice date" — meaning, an early one — to calculate damages.
"The need for a new trial could have been avoided had Apple chosen a more circumspect strategy or provided more evidence to allow the jury or the court to determine the appropriate award for a shorter notice period," she said in her ruling.
Steve Dowling, a spokesman for Apple, declined to comment.
In a statement, Adam Yates, a Samsung spokesman, said that the company was pleased with the judge's decision and that it intended to seek further review of the remaining award.
Apple and Samsung, meanwhile, continue to fight ferociously in the smartphone market, where Samsung has steadily worked its way to the No. 1 position over the last few years. In the fourth quarter, Samsung accounted for 29 percent of global smartphone shipments, while Apple accounted for 21.8 percent, according to IDC.
Mark A. Lemley, a professor at Stanford Law School, called the judge's decision "an extremely careful and thorough opinion on a very difficult and interrelated set of issues."
Mr. Lemley predicted that Samsung would eventually win some reduction in the original $1 billion award, but "almost certainly" less than the $450 million that Judge Koh reduced it by on Friday.
"We'll need a new trial to figure that out," said Mr. Lemley, who has done legal work in the past for Google, maker of the Android operating system involved in the Samsung case and others. "Judge Koh has encouraged both sides to appeal first. That may clarify some questions, but it is unlikely to prevent a new trial, just delay it some."
Article source: http://bits.blogs.nytimes.com/2013/03/01/judge-slashes-jury-award-in-apple-samsung-case/?partner=rss&emc=rss