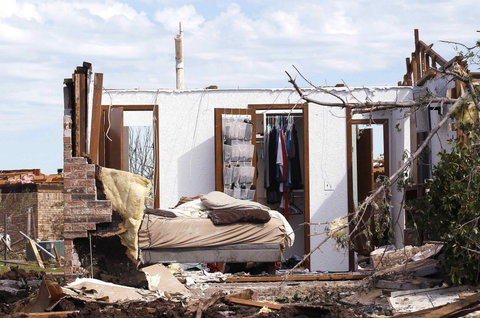 Reuters The remains of a home in Oklahoma damaged by a tornado.
The federal government has imposed a 90-day moratorium on foreclosures of homes with mortgages owned or backed by the Federal Housing Administration in areas of Oklahoma devastated by this week's tornado.
On Tuesday, President Obama declared five counties in Oklahoma to be disaster areas, allowing the Department of Housing and Urban Development to offer foreclosure relief and other housing aid to certain families living in those counties.
The moratorium applies to borrowers with mortgages insured by the F.H.A. who live in Cleveland, Lincoln, McClain, Oklahoma and Pottawatomie counties.
The action applies to new foreclosures, as well as those already in progress. In addition, the agency told lenders and loan servicers that it "strongly recommends" additional help for homeowners directly affected by the tornado, including waivers of late charges, mortgage modifications and refinancing.
H.U.D. also offers various programs to help victims refinance and rebuild their homes. In some cases, the agency will assist victims in obtaining 100 percent financing, including closing costs, to buy a new home or repair an existing one, if they use F.H.A.-approved lenders.
If homeowners are uncertain whether their mortgage is F.H.A.-insured, and don't have access to their loan documents, they can call their loan servicer — the company to which they send their payments — or call 1-800-CALL-FHA. Generally, the agency can use the property's address to tell if the loan is F.H.A.-insured.
Freddie Mac and Fannie Mae, the two mortgage finance giants, also reminded loan servicers about mortgage relief available to victims of disasters like the Oklahoma storms.
Freddie Mac said servicers can offer forbearances — agreements to suspend or reduce payments — for up to a year. "We strongly encourage borrowers to contact their servicers, who are fully authorized to work with them on a case-by-case basis," the company said in a statement.
Fannie Mae said that because it may be difficult to reach homeowners after a disaster, servicers can grant payment relief even if they can't contact the homeowner right away.
In addition to delaying foreclosure actions, H.U.D. reminded lenders that payments made by insurance companies should go to the borrowers to assist in repairing or rebuilding the home, not used to pay down an existing loan balance.
Have you sought mortgage relief following a natural disaster? What happened?
Article source: http://bucks.blogs.nytimes.com/2013/05/22/mortgage-relief-offered-to-oklahoma-tornado-victims/?partner=rss&emc=rss