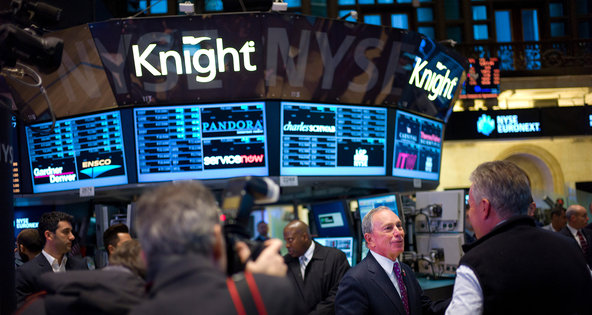 Robert Caplin for The New York TimesMayor Michael R. Bloomberg of New York City on the floor of the New York Stock Exchange on Wednesday.
9:00 p.m. | Updated
Judging by the day's closing stock index numbers, Wednesday seemed boring for the markets. The Dow Jones industrial average and the Nasdaq composite index both fell less than 1 percent.
But by a more important measure — that they were up and running at all, with few visible glitches — it was a hugely significant day.
All the major American stock markets opened for trading on Wednesday, after Hurricane Sandy and its aftereffects led to a two-day shutdown.
Global investors were eager to see how the United States indexes would react after two days without trading. With power failures, destruction and disruptions still gripping much of the Northeast, the reopening of the New York Stock Exchange served as a small sign of reassurance and resilience.
For the 9:30 a.m. opening bell, a bevy of television news crews and camera-toting tourists thronged the exchange. Mayor Michael R. Bloomberg of New York was on hand to ring the bell, flanked by NYSE Euronext's chief executive, Duncan L. Niederauer, and a deputy mayor, Robert K. Steel. When the mayor pressed the button, a small cheer broke out from the floor.
The dozen or so staff members at the ramp, an important nerve center on the floor of the exchange, scanned a wall of monitors to check on market activity but they showed a relatively normal amount of activity.
Hurricane Sandy Multimedia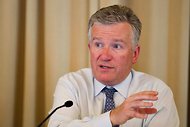 Lucas Jackson/ReutersDuncan Niederauer, chief executive of NYSE Euronext.
As far as the investor reaction to the shutdown, panic did not seem to sweep the markets. The Dow ended the day down 10.75 points, or 0.08 percent, at 13,096.46. The Nasdaq closed down 10.72 points, or 0.36 percent, at 2,977.23. The Standard Poor's 500-stock index, meanwhile, ended fractionally higher, closing at 1.412.16, up 0.02 percent.
As may have been expected, shares of insurers were down. The Travelers Companies, for instance, whose stock had been trending down for several days, closed down 0.87 percent to $70.94.
Prices of Treasuries, which investors normally buy in a flight to safety, were stable. The price on the benchmark 10-year Treasury note rose 8/32, pushing its yield down to 1.69 percent.
Trading volume was average, with about 6.3 billion shares exchanging hands. The daily average for 2012 through last Friday was 6.51 billion shares, according to Thomson Reuters.
The relatively flat close of the markets was an improvement on opening days after previous unplanned market closings. The S. P. 500 fell 4.9 percent after markets reopened after the Sept. 11 terrorist attacks, according to Standard Poor's Capital IQ. However, it rose 0.79 of a point the day after the Big Board closed because of Hurricane Gloria in 1985, the last market closing because of weather.
Investors will now most likely focus on macroeconomic factors like the economy. Some delayed government economic reports are due to be released later this week. And on Friday, the monthly unemployment data will be out, which may sway voters during the presidential election. In an indication that the economy could be losing some of its steam, the Dow was down 2.5 percent for the month of October, while the Nasdaq was off 4.5 percent and the S. P. was down 2 percent.
For their part, exchange officials were pleased with the trading on Wednesday. Lawrence E. Leibowitz, NYSE Euronext's chief operating officer, wandered about the floor, checking on operations.
"There have been very few, very isolated problems," Mr. Leibowitz said. He pointed to blank monitors that were shut off because the data provider, Thomson Reuters, was delivering incorrect market data.
"If that's the worst of our problems," he added, "we're in good shape."
The specialists who handle market orders for the Big Board were back as well, darting about the trading pits in their usual colored jackets. Many gathered outside — not to smoke, but to try to grab a cellphone signal that was impossible to find inside. But getting to the relative calm of Wednesday's open took significant work. For days, exchange officials traded lengthy conference calls with trading firms, regulators, and city and state officials about how best to resume trading in the nation's financial heart.
Originally, the officials had planned to open the electronic exchange but not the trading floor on Monday, after having consulted with regulators, city officials and other exchanges. But, Mr. Niederauer said, the trading industry quickly asked for a full trading halt, citing the potential danger to employees called into work.
Still, preparations were well under way days before the storm hit. The Securities Industry and Financial Markets Association, Wall Street's main trade group, ran multiple calls throughout the weekend to coordinate plans for reopening the markets. An executive of the group was stationed at the city's command center in Brooklyn, along with Bloomberg administration officials.
The group dispatched emergency fuel to firms in Jersey City that needed to jump-start their generators on Tuesday night in preparation for trading on Wednesday.
Staffing was a concern for Big Board officials, too. The exchange dispatched 20 cars on Tuesday to bring in critical personnel before the opening. Others, like Mr. Niederauer, dialed in remotely but went in Wednesday morning at 5:15 a.m.
Jonathan D. Corpina, a senior managing partner at Meridian Equity Partners, came armed with a flashlight to navigate the darkened streets of Lower Manhattan. But he found it easy to find the exchange, which was illuminated by power from backup generators.
"We're here filling orders, and it's business as usual," he said.
Some hiccups emerged, however. One issue was the reliability of member firms' data connections, something that had been tested repeatedly Monday and Tuesday. At about 8 a.m. on Wednesday, Mary L. Schapiro, the chairwoman of the Securities and Exchange Commission, held a call with exchange officials to discuss potential problems with Verizon's network.
Ultimately, both sides concluded that the problems were not severe enough to delay trading.
"The connectivity testing gave us comfort," Mr. Niederauer said. "There was always concern that it may not work." Verizon technicians were on hand to patch spotty communications and network connections, while many trading firms resorted to sharing working Internet and phone lines.
The day ended with relatively little pomp. To recognize their work during Hurricane Sandy, Mr. Niederauer asked members of the exchange's facilities and security teams to ring the closing bell.

Susanne Craig and Ben Protess contributed reporting.
---
This post has been revised to reflect the following correction:
Correction: November 1, 2012
Because of an editing error, an earlier version of this article had the incorrect price of the 10-year Treasury note. The price rose, not fell, 8/32 on Wednesday.
Article source: http://dealbook.nytimes.com/2012/10/31/stocks-little-changed-as-market-reopens/?partner=rss&emc=rss