Michael Buholzer/ReutersThe headquarters of Julius Baer in Zurich.
LONDON — The Swiss bank Julius Baer announced on Tuesday that it would eliminate about 1,000 jobs to reduce costs.
In August, Julius Baer reached a deal with Bank of America Merrill Lynch to buy its private banking operations outside the United States and Japan for around $880 million. As part of its plan to integrate the business, Julius Baer said it now expected to reduce the bank's combined 5,700 work force by 15 to 18 percent.
The layoffs, which could total 1,026 staff members, are expected to begin after the deal closes early next year.
The deal for the Bank of America unit is part of Julius Baer's expansion into new markets as it looks to keep pace with Swiss rivals including UBS and Credit Suisse.
The acquisition would give Julius Baer up to an additional $74 billion of assets, which primarily come from wealthy clients in developing economies.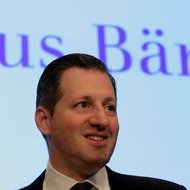 Arnd Wiegmann/ReutersBoris Collardi, chief of the Swiss bank Juluis Baer.
"This acquisition brings us a major step forward in our growth strategy and will considerably strengthen Julius Baer's leading position in global private banking by adding a new dimension not only to growth markets but also to Europe," the company's chief executive, Boris Collardi, said in August.
The expected job cuts are an effort to reduce costs at the new unit, which reported a $30 million net loss in the first half of the year, according to an investor presentation released on Tuesday.
Julius Baer also said on Tuesday that its total assets under management as of Aug. 31 had risen 8 percent, to 184 billion Swiss francs ($196 billion), since the end of 2011.
Shares in Julius Baer fell less than 1 percent in morning trading in Zurich on Tuesday.
Article source: http://dealbook.nytimes.com/2012/10/09/julius-baer-to-cut-1000-jobs-after-deal-for-bank-of-america-unit/?partner=rss&emc=rss