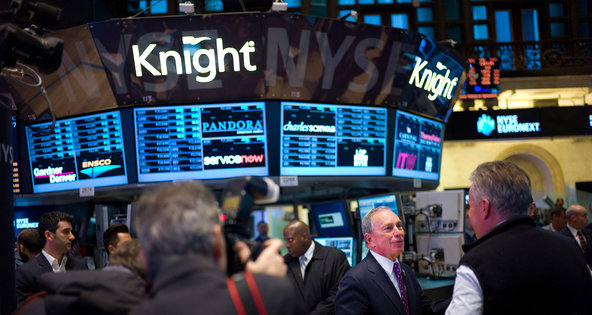 Robert Caplin for The New York TimesMayor Michael R. Bloomberg of New York City on the floor of the New York Stock Exchange on Wednesday.
The major stock indexes were little changed in light trading on Wednesday morning as the market reopened after a two-day shutdown caused by Hurricane Sandy.
A bevy of TV news crews and camera-toting tourists thronged the New York Stock Exchange for the opening, but the trading floor betrayed little that was unusual.
A small crowd enveloped Mayor Michael R. Bloomberg of New York City as he briefly stepped onto the floor to greet exchange workers. He later took to the balcony overlooking the pits to ring the opening bell, flanked by Duncan L. Niederauer, the chief executive of NYSE Euronext, and Robert Steel, a deputy mayor.
As the familiar clang rang through the hall for the first time this week, a small cheer erupted from the floor.
The dozen staffers at "the ramp," an important N.Y.S.E. nerve center on the floor, scanned a wall of monitors to check on market activity.
Hurricane Sandy Multimedia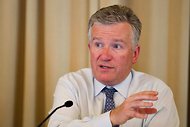 Lucas Jackson/ReutersDuncan Niederauer, chief executive of NYSE Euronext.
Milling about the floor was Lawrence E. Leibowitz, NYSE Euronext's chief operating officer, checking on the state of operations. It was his second straight day at the exchange, having slept there overnight after wading from his home to Wall Street.
"There have been very few, very isolated problems," Mr. Leibowitz said. He pointed to blank monitors that were shut off because the data provider was delivering incorrect market data.
"If that's the worst of our problems,' he added, "we're in good shape."
Mr. Niederauer seemed pleased as well. Wednesday was his first day back at the exchange since last week, having worked remotely because he could not come into the city.
"We're pleased to see the turnout of staff," he said, with many market makers being nearly fully represented.
He said many technical issues had been resolved, though technicians from Verizon were on hand to patch spotty communications and network connections. Many trading firms resorted to sharing working Internet and phone lines, while specialists ducked outside to get cellphone service unavailable on the floor.
At midday, the Dow Jones industrial average was down 0.11 percent, while the Standard Poor's 500-stock index was 0.16 percent lower and the Nasdaq composite index was off 0.55 percent.
Several specialists said that in some ways, the morning had been easier than expected. Commuting was smoother, they said, with little traffic on the roads. And the exchange provided special dispensation to park on nearby streets.
Jonathan D. Corpina, a senior managing partner at Meridian Equity Partners, came armed with a flashlight to navigate the darkened streets of Lower Manhattan. But he found it easy to find the exchange, which was illuminated thanks to backup generators, and dive into work.
"We're here filling orders, and it's business as usual," he said.
Another trader, Peter Costa, said he had noticed little that was out of the ordinary, except perhaps slightly lower volume.
"To me, this feels like a Monday," he said, "but on a Wednesday."
Article source: http://dealbook.nytimes.com/2012/10/31/stocks-little-changed-as-market-reopens/?partner=rss&emc=rss