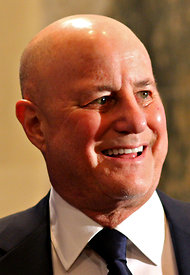 Yana Paskova for The New York TimesRonald O. Perelman
For more than 20 years, Ronald O. Perelman and Donald Drapkin were the best of friends, a relationship cemented as the two financiers bought and sold companies like Revlon and Marvel Comics.
On Tuesday in the Federal District Court in Manhattan, court lawyers for Mr. Drapkin accused his now former friend of being a "nitpicking" boss who reneged on a promise to pay Mr. Drapkin the millions of dollars Mr. Drapkin says he is owed under a 2007 separation agreement, signed when Mr. Drapkin left MacAndrews Forbes, Mr. Perelman's holding company.
"The company was scrounging around for any excuse not to pay Mr. Drapkin," Elkan Abramowitz, a lawyer for Mr. Drapkin, told the eight jurors hearing the case. "Do these nitpicking breaches really give the company the right to terminate contracts worth $16 million?"
The trial is to determine whether Mr. Perelman is required to honor Mr. Drapkin's agreement.
While the two men are battling over roughly $16 million, this is a fight largely about ego, with each man willing to spend potentially millions of dollars in legal fees to prove he is right. Mr. Perelman's net worth is estimated at more than $12 billion, and while Mr. Drapkin's net worth is not known, in court he said he never bothered to add up what he made during his time at MacAndrew Forbes, estimating it was more than $200 million. Mr. Drapkin now runs a hedge fund in New York.
Mr. Perelman was not in court on Tuesday, but his name was invoked multiple times, and he is likely to testify later this week.
Mr. Drapkin did see some of his former colleagues, including Barry F. Schwartz, who is executive vice chairman and chief administrative officer of MacAndrews Forbes. The two, who had worked together for years, sat near each other at the trial but did not appear to speak. On the stand, Mr. Drapkin, who was argumentative and often refused to directly answer many questions on cross-examination, commented that Mr. Schwartz once "promoted himself" to a new post at the company after the death of a colleague. Mr. Perelman's lawyer quickly objected to the comment.
At one point the judge overseeing the trial, Paul G. Gardephe, asked the parties to stop talking over each other.
"Try to leave the comments out," he warned MacAndrews Forbes's lawyer, Matthew Menchel, who grew increasingly agitated during his questioning of Mr. Drapkin. "You know what a laptop is, don't you?" Mr. Menchel barked at Mr. Drapkin.
The trial centers on two issues: whether Mr. Drapkin failed to turn over documents required under his separation agreement and whether he tried to induce a key MacAndrews Forbes executive to leave the company. Mr. Perelman says his old friend did both these things, leaving him no choice but to stop honoring the separation agreement.
Mr. Drapkin's lawyer argued in court that the separation agreement requires his client to hand over all corporate documents "not otherwise available to the company" and that Mr. Drapkin never had documents that weren't otherwise available to MacAndrews Forbes.
Mr. Drapkin, however, remained in possession of hundreds of corporate documents that needed to be deleted in accordance with the separation agreement, MacAndrews Forbes argued.
The proceedings followed a colorful jury selection process. The judge peppered the prospective jurors with question about their professions and their interests, as the pool was whittled down to eight, which included an unemployed actor, a nurse who is a fan of Rachael Ray and a 59-year-old woman getting her associate degree in criminal justice.
As the judge sought to determine whether the prospective jurors could be impartial in the trial, the love life of Mr. Perelman — who has been married five times, once to the actress Ellen Barkin — provided a minor stumbling block.
"Is this the Ronald Perelman who was married to Ellen Barkin?" one juror asked the judge, eliciting laughter in the courtroom. "I have met him a few times through Ellen when they were together."
Judge Gardephe asked whether that would prevent the juror from being impartial. "Yes, probably," the juror responded, laughing. He was immediately excused from the jury pool.
Article source: http://feeds.nytimes.com/click.phdo?i=ef4444f42b6a9d65c055feaa3962d385