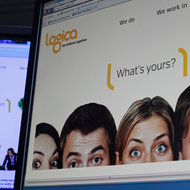 Chris Ratcliffe/Bloomberg NewsThe Web site for Logica, the British information technology company.
LONDON — The Canadian computer services company CGI Group on Thursday agreed to buy the British information technology company Logica for £1.7 billion, or $2.6 billion, as CGI looked to continue its expansion into overseas markets.
Under the terms of the deal, CGI, based in Montreal, will offer Logica shareholders 105 pence, or $1.63, for each of their shares. The offer is 60 percent above Logica's closing share price on Wednesday.
The acquisition, which is supported by Logica's board and other major shareholders, would give CGI, whose operations have focused on North America, access to a number of European markets.
It is the latest in a flurry of deals for British technology companies. Last year, Hewlett-Packard acquired the software maker Autonomy for $11.7 billion, while the private equity firm Vista Equity Partners is currently seeking to buy Misys, another British software company, for $2 billion.
CGI is also taking advantage of the effect of the European debt crisis, which has caused the values of many of the Continent's companies to fall because of a reduction in consumer spending and an economic slowdown.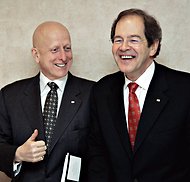 Ian Barrett/The Canadian Press, via Associated PressMichael Roach, left, CGI's chief executive, and Serge Godin, the executive chairman, in 2006.
Last year, Logica announced a restructuring plan that included laying off around 1,300 workers. The British company has also issued a number of profit warnings, and its share price has fallen more than 50 percent in the last 12 months.
In response to CGI's takeover announcement, Logica's share price rose 66 percent, to 109.5 pence, in late afternoon trading in London, higher than CGI's offer price.
Despite the problems facing Logica, CGI said the deal would help expand CGI's operations across Europe.
"This announcement is consistent with our profitable growth strategy and with our belief that global consolidation of our industry is both necessary and inevitable," CGI's chief executive, Michael Roach, said in a statement. "We believe Logica is the right acquisition, at the right price and at the right time."
CGI, which employs 31,000 worldwide and recorded revenue of $4.3 billion last year, said the acquisition would lead to around $200 million in annual cost savings, and would be financed through a combination of new debt financing and existing credit facilities.
The acquisition is expected to close by September.
Goldman Sachs advised CGI on the deal, while Logica was advised by Rothschild, Bank of America Merrill Lynch and Deutsche Bank.
Article source: http://dealbook.nytimes.com/2012/05/31/cgi-of-canada-to-buy-logica-for-2-6-billion/?partner=rss&emc=rss