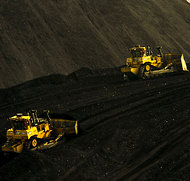 Glencore International, via Bloomberg News A Glencore International coal mine in Colombia.
LONDON — Investors are still not convinced that Glencore International will pull off its $24 billion deal to buy the piece of the mining giant Xstrata it does not already own.
Late on Wednesday, the companies made changes to the incentive pay for Xstrata executives, in an effort to appease shareholders who have said the bid is too low and the retention packages are too high.
But shares of both companies fell more than 1 percent on Thursday, extending a drop from Wednesday.
As part of the initial merger agreement, 73 Xstrata executives were set to receive a combined £172.8 million ($269 million). Xstrata's chief executive, Mick Davis, who would run the combined company, was to receive £28.8 million over three years.
Those retention packages prompted an investor revolt. Qatar Holding, which is one of Xstrata's largest shareholders, said on Tuesday that it had informed Glencore it was "seeking improved merger terms."
John Bond, Xstrata's chairman, said the company had consulted with major shareholders and they have "raised concerns about the proposed structure of the retention arrangements. In particular, they have asked us to consider awarding shares instead of cash and to include a performance condition at the executive level."
Now, the two companies want to tie the payouts to performance.
The revised incentive awards would be paid entirely in shares in the combined group and would be "subject to performance criteria," according to the company.
Retention awards for Xstrata's executive committee would also be "subject to the realization of additional cost savings arising from the merger." The retention awards would only vest in full if $300 million of cost savings over two years would be achieved, Xstrata said.
Article source: http://dealbook.nytimes.com/2012/06/28/glencore-concessions-fail-to-appease-some-investors/?partner=rss&emc=rss