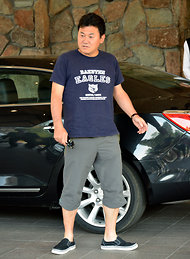 Kevork Djansezian/Getty ImagesHiroshi Mikitani, the founder and chief of Rakuten, arrives for the Allen Company conference in Sun Valley.
SUN VALLEY, Idaho — Hiroshi "Mickey" Mikitani, the chief executive of Rakuten, would buy the rest of Pinterest — if he could.
Earlier this year, Rakuten, often dubbed the Amazon of Japan, led a $100 million investment in the social bookmarking site, at a reported $1.5 billion valuation. It was an eye-popping sum for a Web site that had no revenue and one that had also just raised money at a $200 million valuation just months before.
Mr. Mikitani says the price he paid was more than fair — and he wouldn't mind buying more, assuming it came up for sale.
"I would love to buy," he said during an interview with the New York Times at the Allen and Company conference on Thursday. "But I don't think they would like to sell."
So he'll take what he can get. "We're going to have a very good global strategic relationship with them, so that's fine," said Mr. Mikitani.
Some experts have questioned the merits of the Pinterest investment, which came on the eve of Facebook's botched initial public offering. Indeed, the value of many Web companies have drifted lower in recent months. But Mr. Mikitani, who manages a personal Pinterest board, said he has real conviction in the fast-growing Internet start-up.
"There were very reasonable," Mr. Mikitani said of Pinterest's management team. "They were not greedy, they were not trying to inflate the valuation."
Before making the investment, Mr. Mikitani said he considered Pinterest's meteoric traffic, the quality of its membership base, the so-called "stickiness" of the site (the engagement of its users) and how the site helps retailers. As the head of such a big e-commerce platform, Mr. Mikitani said he was particularly impressed with Pinterest's conversion rate, the number of users who made retail purchases after clicking on Pinterest links.
In recent years, Mr. Mikitani has been on an international buying binge.
His acquisitions include Linkshare and Buy.com in the United States and PriceMinister, the French e-commerce business. Last year, he added book e-reader Kobo to his bursting portfolio.
Mr. Mikitani is not done yet. He said he has benefited from the relatively strong yen, which has made international deals more palatable. However, he provided little detail on his wish list.
"If there's a good opportunity, we will consider it," he said. "Sometimes, great deals just pop up."
Article source: http://dealbook.nytimes.com/2012/07/12/pinterest-tops-wish-list-of-rakuten-japans-amazon/?partner=rss&emc=rss