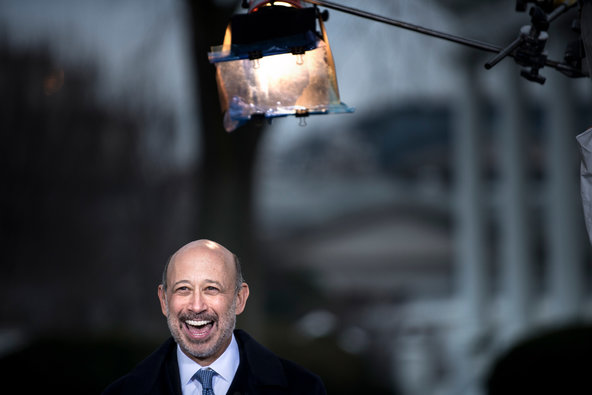 Brendan Smialowski/Agence France-Presse — Getty ImagesLloyd Blankfein, chief of Goldman Sachs, at the White House in February.
6:24 p.m. | Updated The country's improving economy gave a nice lift to second-quarter earnings at Goldman Sachs.
The bank posted profit on Tuesday that was twice what it reported in the period a year earlier, fueled by strong trading and investment banking results as companies looked to Goldman to arrange mergers and acquisitions.
Net income was $1.93 billion, or $3.70 a share, compared with $962 million, or $1.78 a share, in the period a year earlier. The performance beat analysts' expectations for $2.82 a share, according to Thomson Reuters. Still, the results were not enough to propel Goldman shares higher. They closed at $160.24, down $2.76, or 1.7 percent. Investors, wondering if Goldman would be able to repeat the performance in coming quarters, opted to take some profit off the table rather than stick around and find out.
Related Links
Goldman itself, while expressing optimism about the United States economy, was cautious about growth globally. Harvey Schwartz, Goldman's chief financial officer, said client activity improved during the quarter but was then damped a bit by "macro concerns" about countries like China.
"Ultimately our clients are assessing the broader global economy, specifically whether a recovering U.S. will offset potential slower growth in other economic regions," he told analysts during a conference call.
Goldman's results followed similar strong performances by JPMorgan Chase and Citigroup. Over all, Goldman's revenue in the quarter rose to $8.6 billion, from $6.6 billion in the period a year earlier.
On Wall Street, the last couple of months were dominated by a sudden and sharp rise in interest rates after the Federal Reserve indicated it might wind down its big bond purchase program, which has helped the economy recover from the financial crisis.
A rise in interest rates can both help and hurt banks, depending on the businesses they are in. As rates rise, fewer borrowers are likely to refinance or buy a house, and that reluctance can cut into banks' profit. Goldman, unlike its rival JPMorgan Chase, is not a big player in originating residential mortgages, but it does trade mortgages, and as rates increased, its revenue in this area fell. At the same time, the move by various central banks to raise rates ignited a flurry of currency trading, which helped Goldman and other banks.
On the analyst call, Mr. Schwartz, in response to a question, said investors needed to look into why rates were rising. If they are being driven by inflation, he said, that is more problematic than "returning to a normal world of more steady economic growth," as many investors believe. "That is what we are rooting for," he added.

The surge in interest rates was felt most acutely in Goldman's fixed-income, or bond, department. Net revenue in the unit was $2.46 billion, up 12 percent, reflecting what the company said was significant higher net revenue in currencies, credit products and commodities. Still, these increases were offset in part by significantly lower revenue in mortgages and interest-rate products.
The bank reduced the risk it was taking in products related to interest rates. The firm's so-called value-at-risk in rates declined to an average of $59 million in the second quarter from $83 million in the period a year earlier and $62 million in the first quarter. Value-at-risk is a yardstick of the amount of losses that could be experienced in one trading day.
The firm's annualized return on equity was 10.5 percent for the quarter, up from 5.4 percent in the period a year earlier. It was far below its performance in boom years like 2006, when its return on equity was 41.5 percent.
Revenue from investing and lending activities came in at $1.42 billion, up from just $203 million in the period a year earlier. The firm had a rather rocky second quarter in 2012, and its results in that quarter included a big loss on a significant investment in this unit.
Investment banking revenue rose 29 percent, to $1.6 billion, helped by significantly higher net revenue in debt and equity underwriting. Equity underwriting was a particular standout, jumping 55 percent, to $371 million. Debt underwriting rose 40 percent, to $695 million.
Goldman also disclosed that it had set aside $3.7 billion in the quarter for compensation, up 27 percent from the period a year earlier. The current accrual represents 43 percent of revenue, which is in line with other years. Banks like Goldman set aside compensation during the year but do not pay it out until they determine earnings for the full year.
Over the last year, Goldman has reduced its payroll to 31,700 employees, down 2 percent from the period a year earlier, as the firm continues to focus on cutting costs.
On the call, analysts also pressed Mr. Schwartz to disclose how close Goldman was to meeting leverage ratio requirements proposed recently by regulators — 5 percent for the big bank holding companies and 6 percent for insured deposit-taking subsidiaries. The leverage ratio calculates capital as a percentage of assets held as a buffer against losses when investments go bad.
"Our first assessment is we're very comfortable with where we are," Mr. Schwartz said. Not satisfied, a Morgan Stanley analyst, Betsy Graseck, took another run at the question. "What is your definition of comfortable?" she asked.
"Comfortable," Mr. Schwartz responded. "I'm not trying to be cute with you. Look, it's just come out. Our team has looked at it. Our early read is all of the things we've done on the balance sheet over the past several years have left us reasonably well positioned."
Article source: http://dealbook.nytimes.com/2013/07/16/quarterly-profit-doubles-at-goldman-sachs/?partner=rss&emc=rss