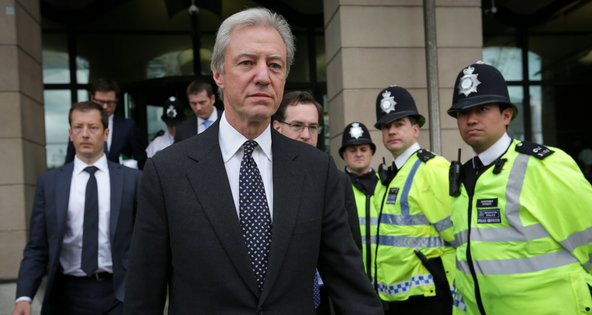 Jason Alden/Bloomberg NewsMarcus Agius, Barclays' chairman, after testifying to lawmakers. He was asked mostly about the actions of Robert Diamond, Barclays' former chief.
LONDON — During his tenure as Barclays chief executive, Robert E. Diamond Jr. spoke passionately about creating a strong culture of integrity and trust, a common philosophy that would breed success at the big British Bank. In a speech last year, he emphasized that the "evidence of culture is how people behave when no one is watching."
Related Links
But now Mr. Diamond, who stepped down last week, faces criticism about his leadership as Barclays deals with fallout from a scandal involving interest rate manipulation.
On Tuesday, Barclays released new documents that indicate British regulators had raised questions about Mr. Diamond's management style, with concerns dating to his appointment to the top spot in late 2010. The scrutiny of Mr. Diamond came months — and in one case, years — before the bank came under fire for trying to manipulate key interest rates.
The revelations, during a tense parliamentary committee hearing in Britain, could put added pressure on the bank and Mr. Diamond.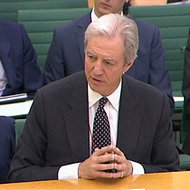 ReutersMarcus Agius, testifying to lawmakers in London, has agreed to resign as Barclays' chairman.
"The culture at Barclays came from the top," said Andrew Tyrie, a member of Parliament who heads the committee. "It came from top executives."
In late June, Barclays agreed to pay $450 million to settle accusations by American and British authorities that it reported false rates in an effort to improve profits and make its financial position look stronger. The case, the first major action stemming from a global investigation into big banks, focuses on a key benchmark known as the London interbank offered rate, or Libor. Such rates are used to help determine the borrowing costs for credit cards, mortgages and other types of debt.
To help quell the anger over the case, Mr. Diamond agreed on Tuesday to forgo up to $31 million in stock bonuses that he was set to receive. Last week, the bank's chairman, Marcus Agius, said he also would resign, along with one of Mr. Diamond's top deputies, Jerry del Missier.
"I am sorry, angry and disappointed," Mr. Diamond told the parliamentary committee last week.
On Tuesday, British politicians directed their ire at Mr. Agius, who testified at the hearing for more than two hours. Lawmakers focused mainly on the actions of Mr. Diamond, wondering what went wrong inside the bank.
The committee, in part, addressed the newly released documents that show British regulators' earlier concerns about Mr. Diamond.
In a letter to Mr. Agius in late 2010, Hector Sants, the chief executive of Britain's Financial Services Authority, pushed for Mr. Diamond, who had been recently tapped as chief executive, to have an "increased level of engagement" with authorities. He added that regulators expected the incoming Barclays chief, who took over in early 2011, to have a "close, open and transparent relationship" with them.
Mr. Sants also cautioned about the incoming chief's chumminess with top Barclays deputies. Mr. Diamond helped build Barclays' investment bank into a global leader, and regulators wanted to ensure that he would exercise sufficient "clarity in oversight" over two close colleagues, Mr. del Missier and Rich Ricci, who replaced Mr. Diamond as the co-heads of the unit.
Questions about the bank's culture persisted.
In April, Adair Turner, chairman of the Financial Services Authority, wrote a letter to Mr. Agius, addressing what the regulator perceived as overly aggressive practices at the bank. He pointed to Barclays' efforts to avoid paying around $774 million in corporate taxes and some of the bank's accounting methods.
"Barclays often seems to be seeking to gain advantage through the use of complex structures, or through regulatory approaches which are at the aggressive end of interpretation of the relevant rules and regulations," Mr. Turner wrote.
In his testimony on Tuesday, Mr. Agius said that Mr. Turner's letter showed the bank's "strained" relationship with the Financial Services Authority. "What that letter is saying is that we overdid it," Mr. Agius said.
The correspondence between Barclays and British regulators appears to contradict evidence that Mr. Diamond gave last week to the same parliamentary committee.
In his testimony, Mr. Diamond indicated that the bank maintained a good relationship with the British regulator. He also said that he did not recall that the regulator had raised concerns about the bank's activities or its internal culture.
"I knew nothing about it at the time that I was appointed," Mr. Diamond told the parliamentary committee last week.
British politicians repeatedly asked Mr. Agius on Tuesday whether Mr. Diamond had been completely forthcoming during his testimony.
"Would you say that Mr. Diamond lied to this committee?" David Ruffley, a member of Parliament, asked Mr. Agius.
"I can't comment on Mr. Diamond's testimony," the Barclays chairman said.
In light of the concerns about Mr. Diamond's testimony, Mr. Diamond might be recalled to give further evidence next week. Senior officials from the Financial Services Authority also are expected to testify.
In his testimony, Mr. Agius gave more detail about the inner workings of the British bank. The Barclays chairman, who said he was first told about the investigations into the bank's Libor activities in April 2010, said the bank's board did not make decisions involving the setting of the Libor. Instead, issues related to the rate were left to lower-level executives, he told lawmakers.
When asked why senior managers did not question decisions to report artificially low rates, Mr. Agius said that the bank handled many difficult situations after the collapse of Lehman Brothers in 2008.
"I think it reflects the extraordinary times," he said.
At the beginning of his testimony, Mr. Agius said that Mr. Diamond would give up his deferred stock bonuses.
Still, Mr. Diamond will receive around $3.1 million, including one year's pay and a cash payment. The agreement is roughly double what he is contractually owed.
"We want to retain such good will as we can with him," Mr. Agius said.
Mr. Agius, who became Barclays' chairman in 2007, was asked to detail the circumstances of Mr. Diamond's resignation last week.
He told the committee that in early July he and Michael Rake, one of the bank's independent directors, talked to Mervyn A. King, the governor of the Bank of England, about the rate-manipulation scandal. During the conversation, Mr. King indicated that Mr. Diamond no longer had the support of the Financial Services Authority, according to Mr. Agius's testimony. But Mr. King said Barclays' board would have to make the final decision about Mr. Diamond's future.
After the conversation with Mr. King, Mr. Agius held a conference call with the bank's nonexecutive directors, who decided to ask Mr. Diamond to resign. After calling Mr. King to inform him of the board's decision, the chairman visited Mr. Diamond at his house.
"I left confident that he would resign," Mr. Agius said.
Article source: http://dealbook.nytimes.com/2012/07/10/parliament-questions-culture-at-barclays/?partner=rss&emc=rss