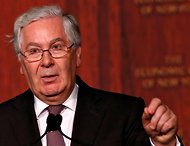 Brendan McDermid/ReutersMervyn King, the governor of the Bank of England, criticized banks that were considering paying bonuses later than usual.
LONDON – Goldman Sachs decided on Tuesday that it would not delay the payment of bonuses to its staff in Britain, a move that would have helped investment bankers and other highly paid employees benefit from a lower income tax rate.
The decision was made as lawmakers criticized banks that were considering paying bonuses later than usual. The top tax rate in Britain is scheduled to drop to 45 percent from 50 percent on April 6.
Goldman Sachs's compensation committee had considered delaying the bonus payments but decided at its meeting on Tuesday not to proceed, said a person with direct knowledge of the decision, who declined to be identified because the meeting was not public. Goldman Sachs is scheduled to report fourth-quarter earnings on Wednesday and usually announces the size of the annual bonuses to its staff soon afterward.
Even the consideration of such a move had threatened to become another public relations problem for the banking industry. Top executives had pledged to try to improve their reputations, which were tarnished by the financial crisis.
Goldman Sachs was already drawing scrutiny in the United States after it distributed $65 million in stock to 10 senior executives in December instead of January, when the company typically makes such awards. The move helped the executives avoid the higher marginal tax rates that will now be imposed on income of $450,000 or more.
Mervyn King, the governor of the Bank of England, told a parliamentary committee on Tuesday morning that even though a delay in bonus payments was not illegal, it was "a bit depressing that people who earn so much seem to think that it's even more exciting to adjust the timing of it."
Sajid Javid, a Treasury minister in Britain, called Goldman Sachs this week to urge it not to delay the payments, a person briefed on the discussion said.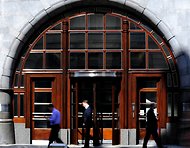 Toby Melville/ReutersThe offices of Goldman Sachs in London in 2010.
The British government announced last year that it would scrap the 50 percent top tax rate for income above £150,000, or about $238,000, which was introduced by the last Labour government to help reduce the budget deficit. George Osborne, the chancellor of the Exchequer, had called the tax "cripplingly uncompetitive" because it cost jobs and did not raise any money.
A spokeswoman for Goldman Sachs declined to comment.
Mr. King said that investment bankers were privileged because a lot of their compensation was made up of bonuses, which the banks can decide to pay whenever they want. But he also said that delaying bonuses to benefit from the coming tax cut "would be rather clumsy and lacking in care and attention to how other people might react."
"In the long run, financial institutions, like all large institutions, do depend on good will from the rest of society," he said. "They can't just exist on their own."
Earlier, several Labour Party politicians criticized the banking industry for considering a delay of bonus payments. John Mann, of the Labour Party, said such a step would be an "opportunistic money grab," The Financial Times reported on Monday.
---
This post has been revised to reflect the following correction:
Correction: January 15, 2013
The headline on an earlier version of this article referred mistakenly to the timing of the bonuses awarded by Goldman Sachs in Britain. As the article correctly noted, the investment bank decided to award bonuses before the tax rate is adjusted on April 6, not after. An earlier version also misstated the currency conversion that would apply to the 50 percent top tax rate for income. The tax rate applied to incomes above £150,000, or about $238,000, not $181,000.
Article source: http://dealbook.nytimes.com/2013/01/15/goldman-retreats-from-plan-to-award-bonuses-later-in-britain/?partner=rss&emc=rss