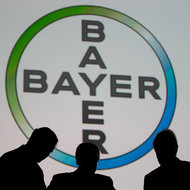 Frank Augstein/Associated PressBayer's board of directors met in Cologne, Germany, earlier this year.
LONDON – The German pharmaceutical company Bayer agreed on Tuesday to acquire the nutritional supplement company Schiff Nutrition International for $1.2 billion.
Under the terms of the deal, Bayer is offering shareholders in Schiff Nutrition $34 a share, 47 percent above the closing share price on Friday. Trading in United States stock markets was closed on Monday because of Hurricane Sandy.
The deal is part of the Bayer's efforts to diversify away from its core prescription drug operations into areas like nutritional supplements. Last month, Bayer acquired the animal health operations of Teva Pharmaceuticals for $145 million.
"Bayer is committed to augment its organic growth with strategic bolt-on acquisitions," its chief executive, Marijn Dekkers, said in a statement. "The Schiff business significantly enhances our presence and position in the United States."
Shares in Bayer rose less than 1 percent in morning trading in Frankfurt on Tuesday.
Bayer said it would use Schiff Nutrition's operations across the United States to expand its own footprint in North America. Schiff, based in Salt Lake City, owns a variety of vitamin brands, including MegaRed and Move Free.
Schiff Nutrition reported revenue of $259 million for the 12 months ended May 31, according to a company statement. Its sales are expected to grow up to 46 percent for this financial year. Schiff Nutrition employs around 400 people in Utah and California.
Schiff Nutrition will be combined with Bayer Healthcare, a subsidiary of Bayer based in Morristown, N.J., that reported revenue of 17.2 billion euros ($22.2 billion) last year. The division includes Bayer's animal health, consumer care, medical care and pharmaceutical operations.
Bayer also reported that third-quarter net income fell 18 percent, to 528 million euros, from the period a year earlier.
The deal for Schiff Nutrition is expected to close by the end of the year.
Article source: http://dealbook.nytimes.com/2012/10/30/bayer-to-buy-schiff-nutrition-for-1-2-billion/?partner=rss&emc=rss