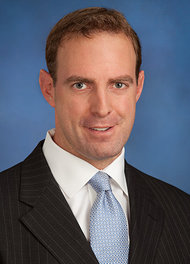 Goldman SachsGlenn Hadden
Goldman Sachs and Glenn Hadden, one of Wall Street's top traders, have been fined by the CME Group over a Treasury futures trade in 2008.
The CME Group, which runs commodity and futures exchanges, has notified both Goldman and Mr. Hadden, once a trader and partner at Goldman Sachs who now runs the global interest rates desk at Morgan Stanley, that both face fines and other sanctions in connection with the trade, according to a disciplinary action reviewed by The New York Times.
Goldman has been ordered to pay $875,000 and was cited for failure to supervise Mr. Hadden. Mr. Hadden has been ordered to pay $80,000.
He faces a 10-day suspension, starting July 15, from "directly accessing all CME Group Inc. trading floors, and indirect and direct access to all electronic trading and clearing platforms owned or controlled by CME Group Inc."
Mr. Hadden is one of the highest-paid professionals at Morgan Stanley and has been known throughout his career for aggressive and profitable risk-taking. As The Times reported in December, it is unusual for someone of Mr. Hadden's stature to be the target of such an investigation.
Related Links
Mr. Hadden joined Morgan Stanley in 2011. He was hired after Goldman Sachs, which had concerns about some of his trading activity, put him on leave in 2009. Those concerns included the episode involved in the sanction.
Mr. Hadden, according to the CME disciplinary action, in the last minutes of trading on Dec. 19, 2008, engaged in trading that violated CME rules.
Mr. Hadden, the CME Group said, was trying to cover some market risk associated with a position he had just before the day's close. He had difficulty with the trade because the market was quite illiquid, and was found to have not unwound the position in an orderly manner. Goldman was fined over failing to supervise Mr. Hadden.
A spokesman from Goldman Sachs said the firm was happy to have the matter resolved. A Morgan Stanley spokesman said "Mr. Hadden is an employee in good standing as the global head of rates at Morgan Stanley."
James Benjamin, a lawyer for Mr. Hadden, said his client was also glad the matter was settled. "This matter arose from standard risk-management procedures for Treasury note futures contracts. Although Mr. Hadden acted in good faith and attempted to follow a textbook approach, he had difficulty liquidating the futures position in an orderly manner in light of stressed and illiquid market conditions."
The disciplinary action is likely to increase speculation about Mr. Hadden's future at Morgan Stanley. Last week his boss, Kenneth M. deRegt, the executive in charge of Morgan Stanley's fixed income department, announced he was retiring. That set off speculation inside Morgan Stanley that Mr. Hadden might also leave, or see his responsibilities diminished.
However, people close to the firm who spoke on the condition of anonymity because they were not authorized to speak on the record about a personnel matter, say there are no plans to move or sever ties with Mr. Hadden.
Mr. Hadden was a big hire for Morgan Stanley, and was brought in just as the firm was working to rehabilitate its fixed income department. That unit, where Mr. Hadden now works, was badly bruised during the 2008 financial crisis.
Article source: http://dealbook.nytimes.com/2013/05/31/cme-group-sanctions-goldman-sachs-and-top-wall-street-trader/?partner=rss&emc=rss