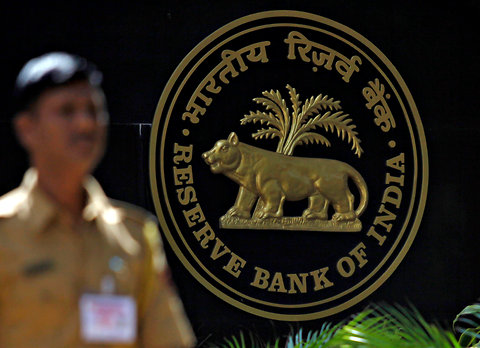 Danish Siddiqui/ReutersA policeman walks past the logo of the Reserve Bank of India outside its head office in Mumbai, Maharashtra in this Nov. 2, 2010 file photo.
In spite of growing calls for it to support India's slowing economy, the Reserve Bank of India said on Monday it would not cut interest rates or lower banking reserve requirements because inflation was still too high for it to act.
Rather, the central bank called on the government to reduce its fiscal deficit and do more to ease supply bottlenecks that restrict farmers, factories and others from producing enough to meet the rising demand for food, manufactured goods and other products.
Many analysts and bankers had hoped the central bank would cut its benchmark interest rate, at which it lends money to banks, by 0.25 of a percentage point and lower its cash reserve ratio by as much as 1 percentage point, which would free banks to lend more money to businesses and consumers.
In April, the central bank cut the benchmark rate by 0.50 of a percentage point, which was more than had been expected, to 8 percent. It has also lowered the reserve ratio several times in recent months to 4.75 percent from a high of 6 percent.
In explaining its decision, the central bank said cutting interest rates further would have done little to support investment and growth, and would have pushed prices even higher instead. In recent months, India's wholesale price index has been rising by more than 7 percent from a year earlier, even as the economy slowed to a 5.3 percent year-on-year growth rate in the first three months of the year, down from 9.2 percent in the comparable period a year earlier.
"Our assessment of the current growth-inflation dynamic is that there are several factors responsible for the slowdown in activity, particularly in investment, with the role of interest rates being relatively small," the Reserve Bank of India said in a statement. "Consequently, further reduction in the policy interest rate at this juncture, rather than supporting growth, could exacerbate inflationary pressures."
The statement appeared to surprise investors and analysts, many of whom have grown increasingly pessimistic about the Indian economy and expected that the central bank would have felt compelled to cut rates. The benchmark Nifty 50 stock index was down 1.5 percent at the end of the day.
But the central bank stuck to a strong anti-inflationary stand and, as it has done several times in recent months, blamed the Indian government for not doing enough to help the economy. On Monday, the central bank said the government's high fiscal deficit, particularly its spending on fuel subsidies, was "crowding out public investment at a time when reviving investment, both public and private, is a critical imperative."
"A lot depends on the government taking credible, concrete steps to revive investments in the economy," said Shubhada Rao, the chief economist at Yes Bank in Mumbai. "Interest rates will play a limited role in spurring investments."
India's government is in the midst of a major transition in economic policy making. The finance minister, Pranab Mukherjee, is running for president, a largely ceremonial post that has some important constitutional powers. It is unclear who would succeed him as finance minister, but many analysts and Indian journalists have speculated that Prime Minister Manmohan Singh, a former finance minister, would take on that position as well, at least for a few months.
Still, regardless of who becomes finance minister, analysts say Mr. Singh's government will have difficulty following the central bank's prescription of reducing subsidies, the fiscal deficit and supply constraints, changes this government has struggled to make since being re-elected three years ago.
Article source: http://india.blogs.nytimes.com/2012/06/18/reserve-bank-holds-interest-rates-steady-to-fight-inflation/?partner=rss&emc=rss