11:58 a.m. | Updated
Citigroup's board said on Tuesday that Vikram S. Pandit had stepped down as chief executive, effective immediately, and would be succeeded by the head of the bank's European and Middle Eastern division, Michael L. Corbat.
His resignation comes after long-simmering tensions with the bank's board. In particular, the board's chairman, Michael E. O'Neill, had been increasingly critical of Mr. Pandit's management, according to several people close to the bank.

Related Links
Mr. Pandit was seen by some board members as not being able to quickly and effectively execute strategy, lurching from crisis to crisis, these people said. There were concerns he lacked the breadth of vision needed to turn the bank around. "He was considered more technically skilled," one Citi executive said.
John P. Havens, the bank's president and a longtime associate of Mr. Pandit, has also resigned.
Some at the bank said on Tuesday that they believed Brian Leach, the bank's chief risk officer, could depart soon as well, especially because he was extremely close to Mr. Pandit.
Inside the bank, the news was greeted with shock. A huge gasp was audible on the trading floor in Manhattan as employees watched the news on monitors showing CNBC, according to several employees. When Mr. Havens's resignation was reported, some employees on the trading floor jumped up from their chairs.
Timeline: Pandit's Tenure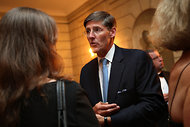 Hiroko Masuike for The New York TimesMichael Corbat was the head of Citigroup's European and Middle Eastern division.

The surprising departures come just a day after the firm reported stronger-than-expected third-quarter earnings. Excluding a number of one-time charges — including a big loss tied to the continued exit from the Smith Barney brokerage — Citigroup earned $3.27 billion, or $1.06 a share. That exceeded analysts' average estimate of 96 cents a share.
"There is nothing better than our third-quarter earnings announcement to demonstrate definitively that we have turned this company around," Mr. Pandit said in a memo to employees.
Yet those results paled in comparison with the earnings announced on Friday by JPMorgan Chase and Wells Fargo. Spurred by exceedingly low interest rates, and the Federal Reserve bond-buying program, there has been a recent resurgence in mortgage lending, bolstering those banks.
Yet Citigroup appeared to have been caught flat-footed. In its earnings call on Monday, John Gerspach, the bank's chief financial officer, intimated that the bank was slow in staffing up to deal with the mortgage activity.
Within the board, some believed Mr. Pandit's lack of foresight and planning contributed to the bank's missed opportunity, the people close to Citigroup said.
Shares of Citigroup were up nearly 1 percent by midday on Tuesday.
Discussions to line up a ready successor to Mr. Pandit have been in the works at Citigroup over the last year, according to several people familiar with the matter. One leading candidate to succeed Mr. Pandit had been Jamie Forese, head of securities and banking. Inside the bank, however, Mr. Pandit had expressed his commitment to stay at the helm of the bank until it was on firmer footing.
During Mr. Pandit's tenure, which began in December 2007, the bank struggled through enormous market upheaval and needed several rescue lines from the government. But it has slowly recovered, in large part by shedding big portions of its businesses. Among them is Smith Barney, the brokerage operation that is being absorbed by Morgan Stanley.
"Given the progress we have made in the last few years, I have concluded that now is the right time for someone else to take the helm at Citigroup," Mr. Pandit said in a statement. "I could not be leaving the company in better hands."
With his departure, just two men who ran Wall Street banks during the financial crisis remain in their posts: Jamie Dimon of JPMorgan Chase and Lloyd C. Blankfein of Goldman Sachs. Both firms rebounded from the upheaval much more quickly and strongly than Citigroup.
Mr. Pandit, an immigrant from India who quickly ascended the ranks of Morgan Stanley before turning to hedge funds, was long seen as an unusual choice to lead Citigroup. But the banking giant purchased Old Lane, his investment firm, and then tapped him in December 2007 to do what a succession of leaders could not: push the firm back to profitability.
Born of a string of acquisitions by Sanford I. Weill, Citigroup initially seemed like an imposing colossus on Wall Street, combining investment and consumer banking, hedge fund services and insurance. But the firm whose birth presaged the fall of decades-old banking regulations proved unwieldy to manage, with a labyrinthine bureaucracy and underperforming divisions.
Under Charles O. Prince III, Mr. Pandit's predecessor, the firm announced more than $18 billion in write-downs because of souring investments in complex mortgage securities known as collateralized debt obligations.
When stepping down, Mr. Weill was very deliberate in choosing his successor. Later, he regretted, privately, that he had not spurred more competition before tapping Mr. Prince.
In an acknowledgment of the difficult task ahead, Mr. Pandit said that he would take a token $1 annual salary until the firm began earning profit again. But the untested chief executive struggled with turbulent markets, culminating in the financial crisis that left Citigroup in need of a $45 billion bailout from the government.
He quickly adopted a deferential tone to Congress and regulators, backing tougher banking rules and moving quickly to shed nonessential businesses like Smith Barney. His ultimate goal had been to transform Citigroup into a smaller bank that focused on safer investment banking and consumer and corporate lending.
Mr. Pandit first brought Citigroup back to profitability two years ago, and by the end of 2010 the government had cashed out its remaining investment in the firm, earning a $12 billion profit for taxpayers. That performance drew praise from many within the firm's ranks: "The man deserves to be paid," Richard D. Parsons, the bank's then-chairman, told New York magazine that year.
The bank's shareholders were less certain about that, still dissatisfied with a firm whose stock had fallen 89 percent since he took over. They vetoed a $15 million pay package for Mr. Pandit in April, in the first major rebuke against the chief of a major financial firm.
Often shareholders find themselves on the hook for millions of dollars in exit payments to executives with so-called golden parachutes, ironclad agreements that entitle them to big payouts on their way out the door. Yet neither Mr. Pandit nor Mr. Havens had employment agreements, according to regulatory filings reviewed for DealBook by Disclosure Matters, a company that specializes in analyzing corporate documents.
Other, more limited agreements with the men also lack the kinds of provisions that are often used to guarantee payouts for exiting executives. A "key employee" profit-sharing agreement with Mr. Pandit filed in May 2011 says he generally "shall not be entitled to any payments pursuant to the plan" if his employment terminates before May 2013,except in the case of death or disability. Similarly, option and stock grants made last year suggested that Mr. Pandit would forfeit most of those awards on departure.
The lack of an employment agreement does not necessarily mean Mr. Pandit is leaving empty-handed. Departing executives often receive special exit packages, negotiated at the time of departure or soon after; these sometimes are not disclosed for days or even weeks. But without such an agreement, Mr. Pandit is likely to have to give up 333,333 options and 240,732 shares awarded last year.
Citigroup did not respond to a request for comment on these disclosures.
As head of Citigroup's business in Europe, the Middle East and Africa, Mr. Corbat represents what many on the board consider the bank's new direction, according to several people familiar with the matter.
The bank has been working to focus its growth on international markets that are not riven by the same problems as the United States.
Also adding to Mr. Corbat's desirability, he helped wind down some of the soured assets in Citi Holdings.
As news of the management upheaval spread throughout the ranks at Citigroup on Tuesday morning, some employees pointed to Mr. Corbat's elevation to chief executive as a censure of Mr. Pandit's leadership.
Mr. Corbat, in an internal memo to employees on Tuesday, said he would begin by immersing "myself in the businesses and review reporting structures."
But some employees noted that Mr. Corbat had already indicated change ahead. In the memo, he said: "These assessments will result in some changes, and I will make sure to communicate these changes with you as decisions are made so that you are informed and updated."
The bank has struggled to make up for lackluster revenue. In March, Citigroup was waylaid by a decision from the Federal Reserve to reject the bank's proposal to buy back shares and increase its dividend.
Susanne Craig contributed reporting.
Article source: http://dealbook.nytimes.com/2012/10/16/pandit-steps-down-as-citis-chief/?partner=rss&emc=rss