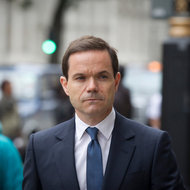 Simon Dawson/Bloomberg NewsJerry del Missier, former chief operating officer of Barclays, arriving to give testimony to Parliament on Monday.
LONDON — Jerry del Missier, a former senior Barclays executive, faced tough questioning on Monday about his role in the bank's rate-manipulation scandal during a tense parliamentary hearing, indicating that he had instructed bank employees to report lower rates at the behest of regulators.
Mr. del Missier, 50, stepped down from the British bank this month, shortly after Barclays settled British and American claims that it had submitted false rates to improve its earnings and deflect concerns about its financial health.
The case centers on a benchmark known as the London interbank offered rate, or Libor, which is used to help determine the pricing for trillions of dollars of financial products, including home loans and credit cards.
On Monday, the Canadian-born Mr. del Missier, a top deputy of the former Barclays chief executive, Robert E. Diamond Jr., faced questions from British politicians about whether he directed employees to report artificially low rates. In testimony, Mr. del Missier indicated that he had received instructions from Mr. Diamond to lower the rates, after the chief's discussions with bank regulators on the matter.
In 2008, Mr. Diamond sent Mr. del Missier and another senior executive an e-mail regarding the government's concerns about the bank's Libor rate submissions. Mr. Diamond also discussed the issue with Mr. del Missier by phone, according to Mr. del Missier's testimony on Monday.
The e-mail detailed a conversation between Mr. Diamond and Paul Tucker, deputy governor of the Bank of England, the country's central bank. The two men discussed the bank's financial position at the height of the financial crisis. After receiving the e-mail, Mr. del Missier instructed Barclays officials on Oct. 29, 2008, to lower the bank's Libor submissions in line with those of rivals, according to regulatory filings.
In testimony, Mr. del Missier said he had acted in response to the conversation with Mr. Diamond. Mr. del Missier said he believed that senior government officials had instructed the bank to alter the rates. Mr. del Missier, however, did not speak to anyone at the Bank of England or other senior regulators about the issue.
"I expected that the Bank of England's views would be incorporated into our Libor submissions," Mr. del Missier said during his testimony on Monday. "The views would have resulted in lower submissions."
Barclays agreed last month to a $450 million settlement with American and British authorities about the manipulation of Libor. According to regulatory documents, a number of the bank's traders and some senior executives altered the firm's Libor submissions for their own benefit between 2005 and 2009.
Several top Barclays executives, including Mr. Diamond, Mr. del Missier and the bank's chairman, Marcus Agius, have resigned in the wake of the scandal.
Mr. del Missier's testimony appears to contradict earlier statements by Mr. Tucker, the Bank of England deputy governor.
Mr. Tucker told the same parliamentary committee last week that his conversation with Mr. Diamond was related to fears that the financial markets might view Barclays to be at risk if its Libor submissions continued to be higher than those of other international banks.
Mr. Tucker said he called Mr. Diamond to remind him that people in the markets were questioning whether Barclays had access to capital. In the aftermath of the collapse of Lehman Brothers in 2008, officials worried that the bank might have to be bailed out if the financial markets perceived the firm was a credit risk.
"I wanted to make sure that Barclays' day-to-day funding issues didn't push it over the cliff," Mr. Tucker told the parliamentary committee.
The testimony by Mr. del Missier comes after statements from Mr. Diamond that he never told his deputies to report false Libor rates. Mr. Diamond said his discussions were misinterpreted.
Mr. del Missier, however, said the e-mail outlining the conversation between Mr. Tucker and Mr. Diamond represented an instruction from government officials to alter Barclays' Libor submissions.
During his hourlong testimony, Mr. del Missier said he would not have instructed Barclays officials to lower the rate if he had not been asked to do so by senior British government officials. He also told the committee that he never followed up with the Barclays officials about the effect of lowering the submissions
British politicians repeatedly asked him whether lowering the bank's Libor submissions in line with those of rivals was illegal, improper and wrongful.
"It didn't seem an inappropriate action given it was taken from the Bank of England," he said.
British lawmakers repeatedly asked Mr. del Missier why he was not aware of the manipulation of Libor at Barclays dating back to 2005. He said he was not aware of that activity until the beginning of 2010.
Barclays was "up to its armpits in dishonest activity in the run up to that phone call," Pat McFadden, a British politician who sits on the committee overseeing the testimony, said in reference to Mr. Diamond's phone call with Mr. Tucker in 2008.
Mr. del Missier's career mirrors the rise of Barclays Capital, as the firm's investment banking division was known. He joined the bank in the late 1990s, and became co-chief executive of the investment banking division in 2009 after holding several other senior positions.
He rebutted lawmakers' accusations that he was taking responsibility for the rate manipulation in an effort to save Mr. Diamond's reputation.
"I'm not the fall guy for anything," he said. "I have resigned my position for the good of the bank."
Article source: http://dealbook.nytimes.com/2012/07/16/former-senior-barclays-executive-faces-scrutiny-in-parliament/?partner=rss&emc=rss