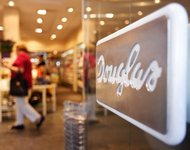 Alex Domanski/ReutersA Douglas retail outlet in Frankfurt.
LONDON – The buyout firm Advent International offered on Monday to buy the German retailer Douglas Holding for around $1.9 billion.
Under the terms of the deal, Advent said it was partnering with the Kreke family, which founded Douglas, in a bid worth 38 euros ($49.26) a share.
The offer is 9.1 percent above the retailer's closing price on Friday. In morning trading in Germany on Monday, shares of Douglas were up 7.8 percent, at 37.50 euros.
Related Links
Advent said it had already secured the support of the three largest shareholders, who have a combined 50.5 percent stake in Douglas. The buyout firm needs the backing of 75 percent of investors to acquire the company.
Advent said it planned to focus on growth within the retailer's perfume and jewelry division if the acquisition was successful. The offer comes at a difficult time for European retailers, which continue to experience a reduction in consumer spending because of the Continent's debt crisis.
"We are convinced that the public tender offer is very attractive," Ranjan Sen, general manager of Advent International, said in a statement.
Douglas, which has annual revenue of about 3 billion euros and employs 24,000 people in 1,900 locations, said earlier this year that it was in discussions with a number of acquirers about a potential takeover.
Advent already operates a number of European retailers, including the French fashion company Gérard Darel and the German retailer Takko Fashion.
Article source: http://dealbook.nytimes.com/2012/10/15/german-retailer-douglas-in-1-9-billion-buyout-deal/?partner=rss&emc=rss