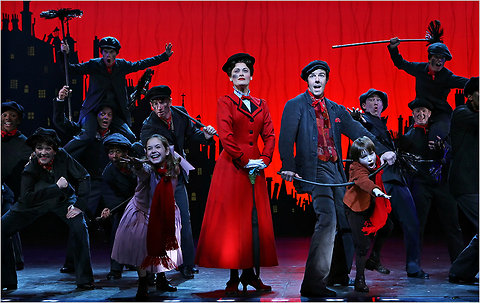 Sara Krulwich/The New York TimesA "Mary Poppins" performance from 2006, starring Ashley Brown as Mary and Gavin Lee as Bert.
Can the bottom of the world sustain one of Disney's megamusicals? "Mary Poppins" is about to find out.
Disney's Broadway division has had hits like "The Lion King" and "Beauty and the Beast" crisscrossing the globe for nearly two decades now, but New Zealand has never made the cut — too expensive a trip for too limited an audience. Until now: "Mary Poppins" will open at Auckland's Civic Theater on Oct. 18, Disney said on Sunday (local time), and run for a hoped-for 10 weeks.
Several factors coaxed Thomas Schumacher, president of the Disney Theatrical Group, to take a flier on New Zealand. Ticket sales for "Mary Poppins" in nearby Australia greatly exceeded expectations. An Auckland production of "Jersey Boys" recently delivered solid results. Apparently, the Kiwi government even played a role. In a statement, the mayor of Auckland, Len Brown, praised local economic development groups for the work they did to "secure" the musical.
"We know that Aucklanders will love the chance to see this spectacular, and the show will attract many visitors to the region," Mr. Brown said.
"Mary Poppins," produced in collaboration with Cameron Mackintosh and still running on Broadway (and touring elsewhere in the world), has sold over $679 million in tickets since its premiere in London in 2004.
Article source: http://mediadecoder.blogs.nytimes.com/2012/06/09/mary-poppins-to-flit-to-new-zealand/?partner=rss&emc=rss