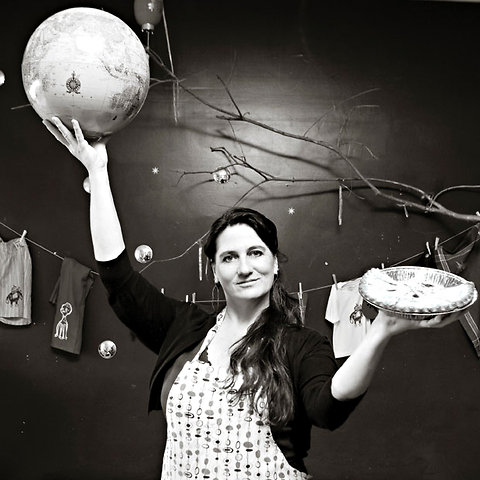 Elise Schreiner PhotographyJoEllen Schilke: "I am done done done done done."
Getting a restaurant off the ground.
Southfork Kitchen is closed for the season. It took weeks to complete the physical task, what with inventory, cleaning, canceling vendors and preserving whatever foods we could. It's taking much longer to shut down internally. I miss the hustle and bustle. I miss the staff. Change was never my friend, especially unscheduled change, a change that brought unexpected sadness, a sense of failure and an empty freedom.
We knew the odds against off-season success, but we were supposed to be so good, so appetizing, that even logic and arithmetic would succumb to our charms. Shame may be the flip side of pride. When it became obvious that we would lose much less money being closed rather than open, we decided to close the doors until May. The decision was sad, laced with guilt, and — as explained in my last post — sent us to Brooklyn in search of a second restaurant. (More about that next time.)
One poignant comment on that post came from Josie in St. Petersburg, Fla., who has been a long-time reader and frequent commenter. She owns a place called The Globe Coffee Lounge. She wrote, in part:
"You should open in St. Pete during the winter. It is gorgeous here, very artsy, good places to eat but not a really good seafood place downtown. And you know what? You can take my space! That's right. Because after almost 13 years of being open, I am done done done done done. Done in by patrons, done in by staff, done in by government. Done in by ennui.
"I have gotten the job of my dreams, and that lets me finally put the end to this once-dream. …the raves don't come near balancing out the million little stabs. So think about St. Pete. It was 75 degrees and sunny this morning. Southwest flies from here to Islip-McArthur, and lord knows, there are some delicious fish, a growing local food movement, and a restaurant-loving population."
Tired of my own voice, bereft of answers, hoping for mutual commiseration, I reached out to Josie, whose real name is JoEllen Schilke. Here's a condensed version of our e-mailed conversation.
When did you start and why?
My partner and I started working on the idea in July, 1998. I was at a party, at a crossroads in my life, when a friend's husband asked me to open a nightclub. I asked if I could open a coffee shop first. He put up the majority of the money, ultimately about $70,000.
What was your background?
I worked as a therapist for years, mainly working with adolescents, which included grief therapy. I then ran a speakers bureau for a nonprofit. Then back to school for a journalism degree, more nonprofit work, and worked in restaurants and bartended on and off throughout that whole period. I also started doing a radio show on the arts in 1992, and still do.
How long was it before you knew what you were doing?
Haha. Hahahahahahaha! Hahahahahahahahahahahaha!
No, really.
It was just a year or so in. I usually think I know now, on a day-to-day basis, though it's more a 'what-am-I-doing?' feeling these days …
If you knew then what you know now …
I wouldn't do it in such an underfunded way. Not at all. I would have gotten about $30,000 more. It has been financially stressful from Day 1 — until my first paycheck at the new job.
What's the new job?
I have gotten my dream job as volunteer and outreach coordinator at WMNF, 88.5 FM, the community radio station in St. Pete. This will give me a bigger venue for creating community and making the world a better place! Plus there will be sleeping, much sleeping.
How many years did the Globe turn a profit?
If I didn't pay myself much, for the last 10.
But the financial stress was constant?
I pay myself a barely living wage, delaying gratification. We can pay our bills. We can invest a little money into new equipment, re-covering the chairs, etc. But there is always something around the corner. Water heaters, cappuccino machines, refrigeration, windows, being robbed, new taxes, more fees, my vehicle breaks, and the constant fear of getting hurt. No insurance. What happens if I cut my thumb really badly? No time or money for stitches or the doctor.
How many people work for you?
Six plus me. Two staff members have been here over seven years.
What's your most popular dish?
The Sloppy JoEllen. When I named it, I didn't realize there were connotations. Ahem. It is a spicy red eye barbecue shredded chicken sandwich, with pepper-jack cheese, roasted red peppers and jalepeños, grilled on foccacia. It unites the Southern, Italian and Cuban cultures of this area.
How has your menu changed over the years?
Many more vegan choices now, and more seasonal produce. Our savories have always been pretty healthy, and the desserts not. Of course, there has to be gluten-free, because there is a militant anti-gluten movement! We try to prove you can be a gluten-free-no-carb vegan and still eat well and cheaply.
Did your vision and reality match up?

The vision was to make a place that felt grounded, that could have manifested only in downtown St. Pete, where all sorts of people felt at home. I dreamt we would be more successful.
Describe success.
I try not to base success on just financial numbers. We are very successful in being a good member of the community, and at having people love us, and at making good things. I think a better business person would charge more money, and perhaps would have moved more quickly on doing things that are good business practices.
What else turned out differently from the plan?

I thought The Globe would be able to thrive without me there every day, or at all. While many people have contributed to what the place has grown into, how we look, it is my eye that keeps the consistency. I want plates decorated before desserts are on them, things straightened, this up, that down. People know me here as that guiding force.
You must enjoy that.
That has a lot to do with why I want out. It doesn't interest me to keep that up anymore.
Are you closing the restaurant or selling it?
I was ready to close, but now people want to buy it. I won't own it after this year ends, unless whomever buys it defaults on their payments.
What is your first rule for would-be restaurateurs?
Don't do it alone. EVER. Have enough money at the beginning, because it is hard to catch up. Don't think you know anything.
What was the best part of owning a restaurant?
Sitting back at my desk and hearing the place humming along, people talking and laughing and working. People coming in and loving the place.
Do you like people more or less after all of these years?
When we started, my motto was, "try to see the face of the Buddha in everyone." Having worked as a therapist for years, I understood why people sometimes behave the way they did. But I have grown more protective of my time and energy over the years, especially with certain demographics. And my tolerance of egotistical customers has almost vanished. I like people just as much, I just can't tolerate them anymore!
Ever had a crush on a customer?
Oh, yes. Way more than one. You?
This is a good place to stop. Thanks and all the best.
The Globe is different in so many ways from Southfork Kitchen, but I think the impulse to feed, to create a space, to tilt the world a little our way, blooms in a lot of restaurant owners. I appreciate that you put your learning curve out there for all to see.
Bruce Buschel owns Southfork Kitchen, a restaurant in Bridgehampton, N.Y.
Article source: http://feeds.nytimes.com/click.phdo?i=6528da236c346fe0f20cfee24a61cafe