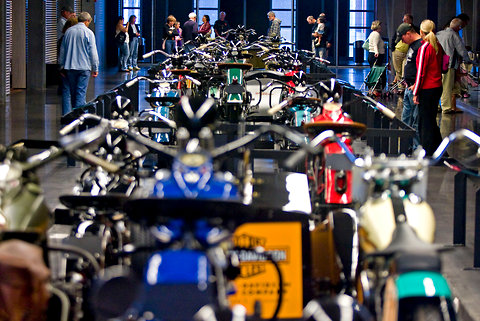 Darren Hauck for The New York Times A Harley-Davidson Museum in Milwaukee
Are you getting the most out of your business?
This weekend, I read an article in the Wall Street Journal about how Harley-Davidson turned itself around using "lean" manufacturing strategies. Lean, or just-in-time, manufacturing is the Toyota production system, which started with W. Edwards Deming and his work with statistical quality control. Whenever I see this kind of article about a large company, I think about how the thoughts and principles can be applied to the smaller companies I work with.
As I read this one, three things occurred to me.
1. The idea behind lean is to create capacity — not to reduce employee headcount. In this case, Harley-Davidson reduced its headcount by more than 1,000 people using lean techniques. Harley-Davidson probably can do this just once. If it continues to use lean strategies to reduce headcount, it will see employee enthusiasm for the program wane.
People don't want to see their jobs go, and they don't want to see their friends' jobs go either. If the layoffs are an economic necessity, they can work. But you can only have so many economic emergencies before people say enough is enough.
My favorite use of lean is to create capacity for more business with the same headcount. I find that employees get excited and stay excited when more business comes into the company. If using lean techniques to make the company better allows for more job security through efficiencies, employees are all for it. If you cut employees in for a piece of the action through bonus programs, so much the better.
2. Installing lean in large companies is much different than installing lean in small ones. Large companies have lots of resources, both economic and human, that they can throw at arrangements like this. Small companies do not.
Still, I'm a big believer in lean activities in small companies. I've seen successful implementations increase profits by 50 percent or more. While large companies can afford to do more than one lean project at a time, the small company successes I've seen take it one step at a time.
3. Often, we see these activities led by those who have been through M.B.A. programs. The problem I often see with M.B.A.'s in smaller companies is that their educational training is for making positive changes in large companies. But those changes don't always work in smaller companies with fewer resources. And an understanding of the strategies that do work in small companies is often totally foreign to those with advanced business degrees.
I've got nothing against M.B.A.'s. I've just come to believe that those with advanced degrees often need to have a complete reset in their beliefs about how successful change is done in a smaller company. Thankfully, there are several programs in the country that concentrate on small businesses.
I found this article very provocative. What do you think?
Josh Patrick is a founder and Principal at Stage 2 Planning Partners where he works with private business owners on wealth management issues.
Article source: http://boss.blogs.nytimes.com/2012/09/24/small-business-lessons-from-harley-davidsons-turnaround/?partner=rss&emc=rss