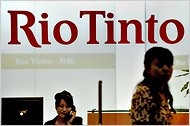 Philippe Lopez/Agence France-Presse – Getty Images
5:42 a.m. | Updated
LONDON – Rio Tinto, the Anglo-Australian mining giant, said on Thursday that its chief executive had stepped down because of a $14 billion write-down on the value of assets that he helped acquire.
Tom Albanese is leaving Rio Tinto after joining two decades ago and spending five years in the top job. He will be succeeded by Sam Walsh, head of the company's iron ore unit. Doug Ritchie, who led the purchase of coal assets in Mozambique whose value has dropped, also stepped down.
Jan du Plessis, Rio Tinto's chairman, said the scale of the write-down related to the assets in Mozambique was "unacceptable."
"We are also deeply disappointed to have to take a further substantial write-down in our aluminum businesses, albeit in an industry that continues to experience significant adverse changes globally," he said in a statement on Thursday.
The write-downs are linked to two of Rio Tinto's biggest acquisitions in recent years: Alcan and the coal producer Riversdale Mining. The company blamed falling aluminum prices for $10 billion to $11 billion of the noncash charge. Most of Rio Tinto's aluminum assets stem from its $38 billion acquisition of Alcan in 2007, which was led by Mr. Albanese.
The acquisition has weighed heavily on Rio Tinto's performance, and some investors had criticized the firm for paying too much in a buoyant market just to avoid becoming a takeover target. Rio Tinto already wrote down $8.9 billion on the value of these assets a year ago.
Another $3 billion of the write-down has been attributed to lowered estimates of the value of its coal business in Mozambique, after the company failed to secure crucial government approvals to ship coal it mined in the African country. Rio Tinto bought Riversdale Mining for around $4 billion in 2011 after having to increase its offer price because of a standoff with the company's shareholders.
Rio Tinto, the world's second-largest mining company after BHP Billiton, cited strong currencies and high energy and raw material costs as other factors leading to the write-down.
"The level of the write-down is very disappointing and it does come as a surprise," said Keith Bowman, an analyst at Hargreaves Lansdown Stockbrokers. "There have been some rash takeovers in the mining industry and I hope this continues to prove a lesson."
Rio Tinto's shares fell 1.9 percent in morning trading in London on Thursday. The company's shares have dropped more than 5 percent in the last 12 months compared with a 0.5 percent increase in the stock price of BHP Billiton in the same period.
Mr. Albanese said in the company's statement that he fully recognized "that accountability for all aspects of the business rests with the C.E.O."
Mr. Albanese will stay on until July 16 to help with the transition. He will not receive a bonus for this year and any outstanding remuneration in form of deferred stock bonuses would lapse, Rio Tinto said.
Article source: http://dealbook.nytimes.com/2013/01/17/ceo-replaced-as-rio-tinto-to-book-14-billion-write-down/?partner=rss&emc=rss