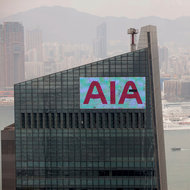 Jerome Favre/Bloomberg NewsThe headquarters of A.I.A. Group, American International Group's Asian insurance unit, in Hong Kong.
The insurance giant American International Group said on Thursday that it planned to sell a $2 billion stake in its Asian insurance unit as part of a plan to repurchase $5 billion worth of its own stock from the United States government.
The move is the latest effort by A.I.G. to shed assets and repay the government after the firm received a $182 billion bailout in 2008.
A.I.G. has been progressively selling its stake in its Asian insurance business, the A.I.A. Group, since listing the company on the Hong Kong Stock Exchange in an initial public offering that raised $17.8 billion.
Related Links
Under the terms of the deal announced, A.I.G. will offer investors 600 million shares in A.I.A. at 25.75 Hong Kong dollars to 26.75 Hong Kong dollars, according to the term sheet obtained by DealBook.
On the low end, the price represents a 2.1 percent discount to A.I.A.'s closing price in Hong Kong on Thursday; on the high end, it represents a 1.7 percent premium. The deal will leave A.I.G. with a stake of about 13 percent stake in A.I.A.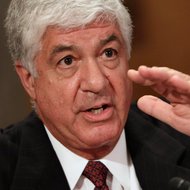 Yuri Gripas/ReutersRobert H. Benmosche, chief of the American International Group, at a House panel in 2010 on the government's $182 billion bailout.
Earlier this year, A.I.G. sold a $6 billion stake in A.I.A., which is the region's third-largest insurer.
A.I.G. said on Thursday that it planned to buy as much as $5 billion of its own stock, the third repurchase of its shares this year. A.I.G. added that it would use the proceeds of the A.I.A. share sale, in part, to repurchase its shares.
The Treasury Department has been selling off its stake in A.I.G. Last month, officials said they would sell about $5 billion worth of A.I.G. stock to reduce the government's holding to around 53 percent, from 92 percent when the firm was first bailed out.
The government's links with A.I.G. now lie primarily with the Treasury Department's shares in the insurer. The holdings could prove profitable. The stock is currently trading at almost $35, ahead of the government's break-even price of $29.
Since receiving a government bailout, A.I.G. has recovered by reinventing itself as a smaller company that largely shies away from the types of complex investments that nearly led to its downfall.
Goldman Sachs and Deutsche Bank are managing the $2 billion share sale for A.I.G.
Article source: http://dealbook.nytimes.com/2012/09/06/a-i-g-to-raise-2-billion-for-share-buyback/?partner=rss&emc=rss