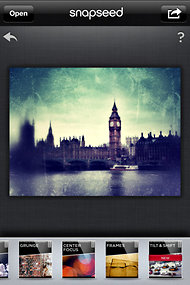 The Snapseed app for the iPhone.
Google said on Monday that it had acquired Nik Software, a company that makes tools for editing and sharing photos. It is Google's latest defensive move against Facebook and part of its strategy to become a photo-sharing hub.
Facebook's dominance in photo uploading and sharing was strengthened by its acquisition of Instagram, which closed this month. Meanwhile, Google Plus — which also announced on Monday that it had 400 million users, 100 million of them active — has been trying to attract both professional and amateur photographers to Google Plus.
Though Nik, which is based in San Diego with offices in Germany and elsewhere, is outside the Silicon Valley bubble, it has a following among serious photographers. The companies did not disclose the acquisition price, though one person briefed on the deal said it was significant because Nik has more than 100 employees and is 17 years old.
Nik's most well-known product is Snapseed, a mobile app for editing and sharing photos that Apple  named iPad app of the year in 2011. It has more sophisticated photo editing tools than Instagram, but it is not nearly as popular. Snapseed is available only for Apple devices but will come to Android soon (and probably a lot sooner now that Google owns it). Many of Nik's other products are aimed at professional photographers.
Facebook says its user upload more than 300 million photos a day, many more than on Google Plus or any other Web site. Google declined to say how many photos its users upload.
But Google Plus does offer special tools for photos. For sharing them, Google Plus's mobile app automatically uploads cellphone photos to a private folder on Google Plus, so they are backed up and can easily be shared. Users can also upload and download high-resolution photos.
With Nik and other services, Google is trying to differentiate itself from Facebook and other photo-sharing sites with more advanced photo editing. Google, which owns Picasa and Picnik, the online photo editor, has incorporated their high-end tools into Google Plus, including adjusting light and pixel size, sharpening or softening colors and applying filters.
Google seems most interested in Nik's mobile and online tools and how they can improve Google Plus. Google declined to say whether or when it would discontinue any of Nik's other products, like desktop software for professional photographers.
"We want to help our users create photos they absolutely love, and in our experience Nik does this better than anyone," Vic Gundotra, senior vice president at Google in charge of Google Plus, wrote on Google Plus.
Article source: http://bits.blogs.nytimes.com/2012/09/17/google-buys-nik-to-lure-photographers-to-google-plus/?partner=rss&emc=rss