DAVID LEONHARDT
Thoughts on the economic scene.
Part of Europe's problem is that Europeans can't agree on some basic facts about the continent's financial crisis. Consider the striking results of a recent poll by the Pew Research Center: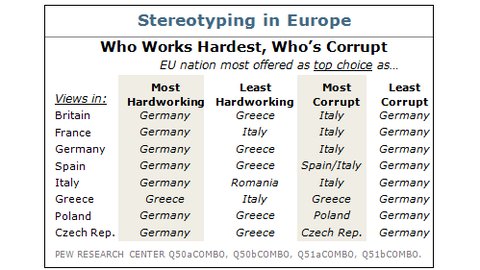 Pew Research Center
In most large European countries, a plurality of people say Germans are the hardest-working Europeans, with a substantial share also saying that Greeks are the least hard-working. Greeks, on the other hand, say Italians are the least hard-working — and view themselves as the hardest working.

Pew explains:
The crisis has exposed sharp differences between some Europeans. Germany is the most admired nation in the E.U. and its leader the most respected. The Germans are judged to be Europe's most hard-working people. And the Germans are the strongest supporters of both European economic integration and the European Union.

Greece is the polar opposite. None of its fellow E.U. members surveyed see it in a positive light. In turn, Greeks are among the most disparaging of European economic integration and the harshest critics of the European Union. And they see themselves as Europe's most hard-working people.
James Surowiecki's column in this week's edition of The New Yorker touches on similar themes:
Europe isn't arguing just about what the most sensible economic policy is. It's arguing about what is fair. German voters and politicians think it's unfair to ask Germany to continue to foot the bill for countries that lived beyond their means and piled up huge debts they can't repay. They think it's unfair to expect Germany to make an open-ended commitment to support these countries in the absence of meaningful reform. But Greek voters are equally certain that it's unfair for them to suffer years of slim government budgets and high unemployment in order to repay foreign banks and richer northern neighbors, which have reaped outsized benefits from closer European integration. The grievances aren't unreasonable, on either side, but the focus on fairness, by making it harder to reach any kind of agreement at all, could prove disastrous.
Article source: http://economix.blogs.nytimes.com/2012/05/29/in-europe-a-dispute-over-facts-and-fairness/?partner=rss&emc=rss