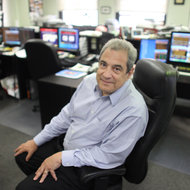 Chang W. Lee/The New York TimesAccused of insider trading in 2002, Nelson Obus refused to settle: "That is the same as guilty to me."
A Federal Appeals Court has revived a decade-old insider-trading case brought against a New York hedge fund manager by the Securities and Exchange Commission.
Nelson Obus, the president of Wynnefield Capital, was charged by the S.E.C. with illegal trading in the stock of SunSource after receiving confidential information about the company. Also charged in the case were Peter Black, an analyst at Wynnefield, and Thomas B. Strickland, a former employee at General Electric who was the alleged source of the secret tip that SunSource was about to be acquired by another company.
Judge George B. Daniels, a federal trial court judge in Manhattan, had thrown out the case in late 2010. But on Thursday, a three-judge panel for the United States Court of Appeals for the Second Circuit reversed his decision.
"The S.E.C. established genuine issues of material fact with respect to its claims of insider trading," wrote Judge John M. Walker Jr., a Federal Appeals Court judge.
Joel M. Cohen, a lawyer for Mr. Obus, said he and his client were disappointed by the ruling. "We will now prepare for trial and welcome the full airing of the facts, which will confirm the merits of our case," he said.
Mark S. Cohen, a lawyer for Mr. Black, did not immediately respond to a request for comment.
"We are of course disappointed by this outcome, but we knew it was a possibility based on the complexity of the law in this area," said Roland G. Riopelle, a lawyer for Mr. Strickland.
The case against Mr. Obus centered on Allied Capital's 2001 acquisition of SunSource, a manufacturer of bolts, washers and lock nuts. Wynnefield Capital, Mr. Obus's hedge fund, owned nearly 6 percent of the company. The S.E.C. said that Wynnefield made $1.3 in illegal profits trading on an inside tip about the deal.
Wynnefield's source on the deal, regulators said, was Mr. Strickland, an associate at GE Capital, which was looking to finance Allied's acquisition of SunSource. Mr. Strickland spoke with Mr. Black, his friend and an employee of Wynnefield, but they insisted that they did not discuss the potential merger.
The S.E.C. said that Mr. Obus bought SunSource stock while in possession of secret information about the Allied deal. Mr. Obus said he had no knowledge of any possible transaction. When Allied announced its purchase, SunSource's stock nearly doubled.
Among the sticky legal issues in the case is whether Mr. Strickland violated a duty to his employer, General Electric, a necessary element of an insider trading lawsuit. Mr. Obus's lawyers argue that Mr. Strickland did not violate his duty to G.E., and that G.E. had not entered into any confidentiality agreement with SunSource.
Judge Daniels, the trial court judge, dismissed the case, ruling that "neither Strickland nor his employer, GE Capital, was a corporate insider of SunSource." He added that the S.E.C. had not "demonstrated the requisite degree of deceptive conduct on the part of any defendant."
The Federal Court of Appeals disagreed, ruling that "the S.E.C. has established genuine questions of fact about whether Obus knew that Strickland had breached a duty to GE Capital and whether Obus traded in SunSource stock while in knowing possession of the material non-public information that SunSource was about to be acquired."
On Thursday, Mr. Cohen, a lawyer for Mr. Obus, said that for more than 10 years his client has refused to settle this lawsuit as a matter of principle.
"The facts remain the same: the lawsuit is baseless; Obus and Wynnefield behaved properly; and this case never should have been brought," he said.
Mr. Obus, whose fund managed about $280 million in assets, has called the case "a nightmare" and said he has racked up more than $6 million in legal bills.
Article source: http://dealbook.nytimes.com/2012/09/06/appeals-court-revives-insider-trading-case-against-obus/?partner=rss&emc=rss