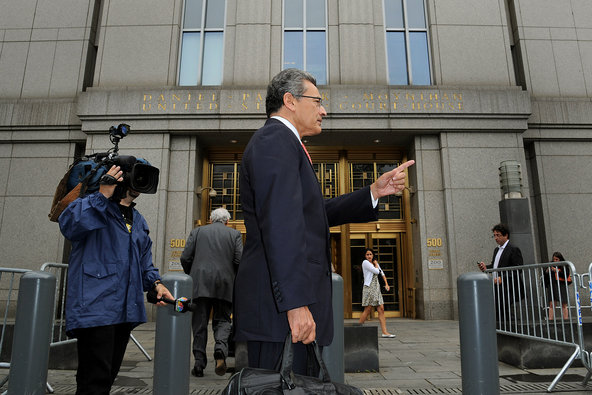 Peter Foley/Bloomberg NewsRajat Gupta, former Goldman Sachs director, exits federal court in New York on Wednesday.
During closing arguments in the insider trading trial of Rajat K. Gupta on Wednesday, a prosecutor distilled a dizzying number of exhibits — phone records, board minutes, trading logs and e-mails — into a cogent narrative of the government's case.
But a defense lawyer for Mr. Gupta said that the reams of documents and nearly two dozen witnesses were a desperate attempt by the government to bolster a thin case that lacked any "hard, real and direct" evidence of wrongdoing.
"If you put in a lot of paper, you give the illusion that you might have something more than you actually have — an illusion of making something out of nothing," said Gary P. Naftalis, a lawyer for Mr. Gupta. "That is a gambit that can bamboozle people into thinking something was proven when it wasn't," Mr. Naftalis said.
On Thursday, a jury of eight women and four men at Federal District Court in Manhattan will begin deliberating the fate of Mr. Gupta, 63, who was once one of the world's most respected businessmen.
As the retired head of the consulting firm McKinsey Company and a former director on the boards of Goldman Sachs and Procter Gamble, Mr. Gupta is the most prominent defendant in a long-running crackdown on insider trading that has led to criminal charges against about 60 hedge fund traders and corporate executives.
Mr. Gupta is accused of leaking boardroom secrets from Goldman and Procter Gamble to his friend and business associate Raj Rajaratnam on eight occasions from 2007 to 2009. Mr. Rajaratnam, a former head of the Galleon Group hedge fund, was convicted of insider trading by a jury last year and is serving an 11-year federal prison term in Massachusetts. While the trial of Mr. Rajaratnam was filled with drama, the testimony during the monthlong trial of Mr. Gupta grew tedious at times.
Numerous objections from both sides slowed the case down, as did lengthy sidebars out of jurors' earshot when the two sides sparred over legal issues. For prosecutors and Mr. Gupta's lawyers, closing arguments were their last chance to shape competing versions.
The defense on Wednesday, as it has throughout the trial, tried to distance Mr. Gupta from Mr. Rajaratnam. Mr. Naftalis argued that Mr. Gupta lacked any knowledge of the vast insider trading conspiracy that Mr. Rajaratnam orchestrated.
"There was a secret world of Raj Rajaratnam that was unknown to Rajat Gupta," Mr. Naftalis said. "Our law does not make people criminals based on guilt by association."
The government presented the jury with a different take.
"Two men with public sides of success," said Reed Brodsky, a prosecutor, describing Mr. Gupta and Mr. Rajaratnam, a one-time hedge fund titan. "But hidden, concealed from the public, was a different side, a side that committed crimes."
Mr. Gupta's lawyers emphasized that the government's case was based largely on circumstantial evidence like phone and trading records.
Unlike last year's trial of Mr. Rajaratnam, this trial had no smoking-gun wiretaps of illegal insider trading.
"With all the power and majesty of the United States government, they found no real, hard, direct evidence," Mr. Naftalis said. "They didn't find any because it didn't happen.
"As they say in that old commercial, where's the beef in this case?"
Richard Tarlowe, a prosecutor, methodically took the jury through a series of charts that the government believes establishes Mr. Gupta's guilt. The charts showed Mr. Gupta's participation in Goldman and P.G. board meetings via telephone.
Shortly after those meetings, sometimes seconds after, Mr. Gupta called Mr. Rajaratnam, according to phone records. Trading logs then listed large trades in Goldman or P.G. by Mr. Rajaratnam.
Toward the end of his summation, after presenting yet another pattern of phone calls and questionable trades, Mr. Tarlowe said, "It's not another coincidence, ladies and gentlemen."
Mr. Brodsky, discussing the circumstantial evidence in the case, said: "To believe the arguments of the defense team, you'd have to believe that Mr. Gupta is one of the unluckiest people in the world. He is not the victim of unlucky coincidences."
Mr. Tarlowe spent a chunk of time talking about Sept. 23, 2008, when Mr. Gupta participated in a board call to approve a $5 billion investment in Goldman Sachs by Warren E. Buffett during the depths of the financial crisis.
The board discussion ended at 3:53 p.m. Seconds after it ended, Mr. Gupta called Mr. Rajaratnam, according to phone records. A minute later, Mr. Rajaratnam ordered his traders to buy shares of Goldman Sachs before the market closed at 4 p.m.
"In the last 10 minutes of the day, there was one call to Rajaratnam, and it was from Rajat Gupta," Mr. Tarlowe said. "That evidence is devastating."
To bolster the phone and trading records, Mr. Tarlowe played a wiretapped call of Mr. Rajaratnam boasting of the tip with another employee of Galleon. During the call, Mr. Rajaratnam told the employee that he had heard something good was going to happen to Goldman. The employee suggested three times that they hold off talking about the details until Mr. Rajaratnam got into the office.
"You know what that means," Mr. Tarlowe said, nodding at the jurors.
Throughout his closing, Mr. Naftalis stressed that the government had the burden of proving its case beyond a reasonable doubt. If the government did not meet that high burden, Mr. Naftalis told the jury, "It's your duty to say not guilty, or, as they say in Scotland, not proven."
At the end of his summation, Mr. Naftalis again invoked Britain. Growing quiet, and in a voice barely audible to the gallery, he recalled going to one of the oldest courthouses in England, where written on the walls of the basement are the words "In this hallowed place of justice, the Crown never loses because when the liberty of an Englishman is preserved against false witness, the Crown wins."
He then translated those words to the American legal system, urging the jury to find his client not guilty.
"The United States," Mr. Naftalis said, "always wins when justice is done."
Article source: http://dealbook.nytimes.com/2012/06/13/after-contrary-closings-insider-case-goes-to-jury/?partner=rss&emc=rss