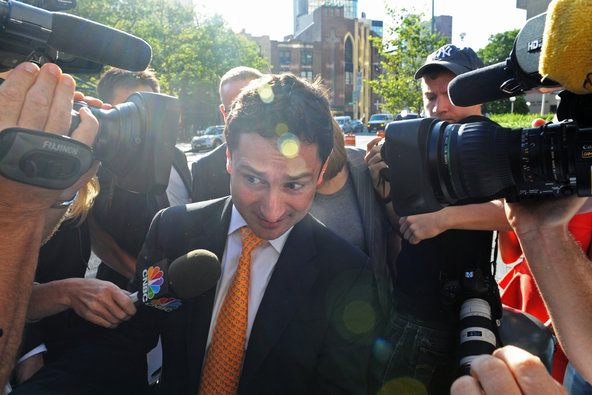 Louis Lanzano/Associated PressFabrice P. Tourre, the former Goldman Sachs trader, entered federal court in Lower Manhattan on Monday.
2:04 p.m. | Updated
The seat for juror No. 6 proved especially nettlesome to fill on Monday in the civil trial of Fabrice Tourre, the former Goldman Sachs employee who has become a prominent face of the financial crisis.
Six people were rejected from the trial's jury pool, including a professor and a mortgage underwriting.
Still, after less than two hours of questions, a nine-person jury had been seated for the civil trial Mr. Tourre. The five women and four men who will hear the three-week case represent a fairly diverse lot, having been through a brisk selection process overseen by the presiding judge, Katherine B. Forrest of the United States District Court in Manhattan. None of the jurors said yes when asked if he or she had heard of the 'Fabulous Fab' — the nickname Mr. Tourre is widely known by.
The Securities and Exchange Commission in 2010 sued Mr. Tourre, arguing he was part of a conspiracy in 2007 to mislead investors when selling a mortgage security that ultimately failed. Mr. Tourre maintains he did nothing wrong.
Related Links
One prospective juror, who was selected, drew snickers from the audience when her profession was announced. She is a reverend, conjuring up memories a now infamous comment by Goldman's chief executive, Lloyd C. Blankfein, who joked during the financial crisis that he was merely doing "God's work." The comment drew sharp criticism at the time.
Several jury candidates professed ties to Wall Street or finance, or said they had read articles about the case. One woman worked as a mortgage underwriter who had ties to JPMorgan Chase. Another was a day trader who had owned Goldman stock at one point. A number of prospective jurors were dismissed because of their views on Wall Street.
"I have a fairly jaundice view of Wall Street," announced one juror before he was dismissed.
The jury that was selected includes the reverend, a former retail stockbroker and a retiree. The two teams of lawyers needed only two rounds of cuts before arriving at the present jury.
Judge Forrest promised the jury that she would run the trial as efficiently as possible, telling them that while the trial is scheduled for three weeks, she will try and beat that timetable.
"I am known as a judge who moves things along," she said. She later added, "I am a shark on time."
Meanwhile, a small armada of TV trucks was lined up outside the courthouse in Lower Manhattan — but it wasn't clear that they were all present for Mr. Tourre's trial. There are five trials starting in the same court house on Monday. (Representative Charles B. Rangel was seen by the courthouse
Article source: http://dealbook.nytimes.com/2013/07/15/trial-of-former-goldman-trader-gets-under-way/?partner=rss&emc=rss