CATHERINE RAMPELL
Dollars to doughnuts.
For years industry groups have complained that government regulations and taxes were at the root of the weak recovery, but survey data consistently showed that demand was actually far and away the biggest problem. Until recently.
As I note in my article about the gulf in economic optimism between small businesses and large ones, the National Federation of Independent Business surveys its members each month about the "most important problem" facing their business. They have 10 possible answers: taxes, inflation, poor sales, financial and interest rates, costs of labor, government requirements and red tape, competition from large businesses, quality of labor, cost/availability of insurance, and "other."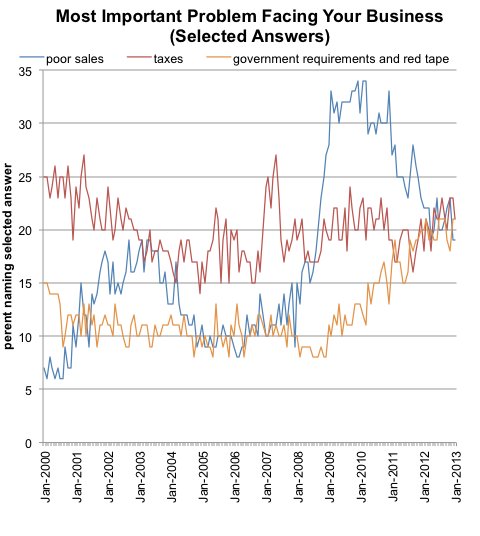 Source: National Federation of Independent Business, via Haver Analytics. Shown are selected answers to the question, "What is the single most important problem facing your business today?"
Starting in September 2008 (the month Lehman Brothers imploded), "poor sales" claimed the plurality of answers every month for more than three years. But the shares answering "taxes" and "government requirements and red tape" crept up, and since early 2012 have been more or less tied with the "poor sales" group. In fact, the share complaining about government requirements has not been this high since the mid-1990s.
It's not clear why this is the case. The rise in tax complaints predates the recent marginal income tax and payroll tax hikes. (Maybe state and local taxes are a big concern?)
And red tape is always a pain, but there does not seem to have been a huge burst of new regulations, at least not yet. Some of the main parts of the Affordable Care Act that affect businesses — including the penalty that employers with more than 50 full-timers will pay if they don't offer health insurance — start in 2014. There's a lot of confusion about these regulations, though, and many employers who will probably not even be directly affected are still freaking out.
It's also worth noting, of course, that "poor sales" and almost any other answer are two sides of the same coin: sufficiently strong sales can outweigh just about any burden from taxes, regulations, wage increases or most other costs of doing business.
Article source: http://economix.blogs.nytimes.com/2013/02/14/the-most-important-problem-facing-small-businesses/?partner=rss&emc=rss