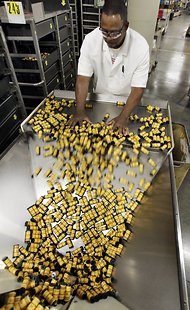 David Duprey/Associated PressKodak film headed for packaging at the factory. The company invented the digital camera, but rivals overtook that market.
Eastman Kodak said early Thursday that it filed for bankruptcy protection, as the 131-year-old film pioneer struggled to adapt to an increasingly digital world.
As part of its filing, made in the federal bankruptcy court in the Southern District of New York, Kodak will seek to continue selling a portfolio of 1,100 digital imaging patents to raise cash for its loss-making operations. The company plans to continue operating normally as it reorganizes under Chapter 11 protection.
"Kodak is taking a significant step toward enabling our enterprise to complete its transformation," said Antonio M. Perez, the company's chief executive, said in a news release. "At the same time as we have created our digital business, we have also already effectively exited certain traditional operations, closing 13 manufacturing plants and 130 processing labs, and reducing our workforce by 47,000 since 2003. Now we must complete the transformation by further addressing our cost structure and effectively monetizing non-core I.P. assets."
The company said it obtained $950 million debtor-in-possession from Citigroup to provide it liquidity to operate during bankruptcy. Kodak said that its non-American subsidiaries are not part of the filing.
Kodak has become the latest giant to falter in the face of advancing technology. The Borders Group liquidated last year after having failed to gain a toehold in e-books, while Blockbuster sold itself to Dish Network last year as its retail outlets lost ground to online competitors like Netflix.
Founded in 1880 by George Eastman, Kodak became one of America's most notable companies, helping establish the market for camera film and then dominating the field. But it has suffered from a variety of problems over the past four decades.
First came foreign competitors, notably Fujifilm of Japan, which undercut Kodak's prices. Then the onset of digital photography eroded demand for traditional film, squeezing Kodak's business so much that in 2003 the company said that it would halt investing in its longtime product.
Under Mr. Perez, Kodak has bet on inkjet printers. That strategy has yet to bear fruit, however: the company has made money in only one year since 2004.
It has also turned to patent lawsuits to generate revenue, winning settlements from the likes of LG of South Korea.
The company has burned through its cash reserves, stoking concerns that it may run out of money. As of Sept. 30, Kodak reported having $900 million in cash and short-term investments.
Its bankruptcy petition on Thursday listed $5.1 billion in assets and $6.75 billion in liabilities as of Sept. 30.
As a last-ditch effort to raise cash, Kodak announced last July that it had hired Lazard to sell its digital imaging patents, hoping to cash in on a frenzy for intellectual property that drove Google's $12.5 billion takeover of Motorola Mobility. But the company had failed to garner enough interest among potential buyers.
But by the fall, it became apparent that Kodak was also preparing for a potential Chapter 11 filing, hiring advisers who could help with a court-supervised restructuring. Besides potentially aiding in the patent sale, bankruptcy protection could also allow Kodak to shed hundreds of millions of dollars in pension obligations.
Earlier this month, Kodak announced a corporate reorganization that split its businesses into consumer and commercial segments, which some analysts said may aid in the sale of parts of the business.
The company has also filed new patent infringement suits against a number of competitors, including Fujifilm and Apple Inc., an effort to shore up the value of the patents it hopes to sell.
Kodak is  being advised by Lazard, FTI Consulting  and the law firm of  Sullivan Cromwell. The company said that Dominic DiNapoli, vice chairman of FTI Consulting, would serve as chief restructuring officer during Chapter 11.
Article source: http://feeds.nytimes.com/click.phdo?i=c0e76ba09873e87b8e68711d39bce806