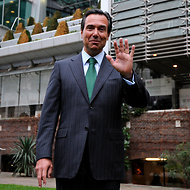 Carl Court/Agence France-Presse — Getty ImagesAntónio Horta-Osório, chief of the Lloyds Banking Group.
LONDON – The Lloyds Banking Group, the partly nationalized British bank, agreed on Wednesday to sell a number of its private equity investments to the British firm Coller Capital for around £1 billion, or $1.6 billion.
The move comes as the British bank, which received a government bailout, looks to shed so-called noncore assets in an effort to reduce its balance sheet.
Under the terms of the deal, the British private equity firm Coller Capital, which specializes in purchasing assets from investors, will buy a portfolio of investments from the Lloyds Banking Group worth around £1 billion. The agreement also includes the transfer of £220 million of unused investment capital to the private equity firm, according to a statement from the bank.
Last year, the portfolio of investments currently owned by the Lloyds Banking Group generated a £40 million loss, and will continue to be overseen by Lloyds, which will earn an annual management fee of £10 million.
Along with other European banks, the Lloyds Banking Group is selling assets in an effort to improve its profitability and reduce its exposure to risky investments.
During the first six months of the year, the bank reduced its noncore assets to £117.5 billion, a 27 percent decline from the period a year earlier.
The Lloyds Banking Group reported a £641 million net loss in the first half of the year after setting aside an additional £700 million to cover costs related to the inappropriate sale of insurance to customers.
The firm also said a number of its employees had received subpoenas or information requests from authorities related to the manipulation of the London interbank offered rate, or Libor.
Article source: http://dealbook.nytimes.com/2012/08/15/lloyds-banking-group-to-sell-private-equity-assets-for-1-6-billion/?partner=rss&emc=rss