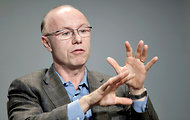 Francis Specker/Bloomberg NewsDoug Leone, a partner with Sequoia Capital, is said to have been to Brazil in December 2010 to explore potential investments.
SAO PAULO, Brazil — Sequoia Capital is expanding to South America, becoming the latest Silicon Valley stalwart to tap into the region's growing economy, according to two Brazilian investors with direct knowledge of the plans.
The venture capital firm plans to send one of its partners, David Velez, to Brazil in July to head up its regional office, likely in São Paulo. It is also seeking a research associate, said the investors, who asked to be anonymous because the plans were not finalized. Officials at Sequoia declined to comment.
The move has apparently been in the works for over a year. Doug Leone, a Sequoia partner, came to Brazil in December 2010, to look for potential investments and entrepreneurs looking to expand, according to the two investors. The firm hired Mr. Velez in 2011 to oversee South American investments.
Mr. Velez, a graduate of Stanford's engineering school, had helped start General Atlantic's Brazilian operations. Before that, he was an investment banker at Morgan Stanley in the financial sponsors group, based in New York.
Sequoia has not yet invested in any Brazil-based technology companies, but the country is an important market for two South American investments that the firm made late last year.
Its first investment in South America was a $10 million infusion to Scanntech, based in Montevideo, Uruguay. Sequoia was introduced to the company through Sergio Monsalve, a partner at Norwest Venture Partners.
Scanntech, started in 1991, makes technology to connect independent grocers and retailers with suppliers. Customers include Kraft, Coca-Cola, Scotiabank and Visa. The company had revenue last year of $18 million, which is projected to grow to $36 million this year.
Austral Capital, a venture capital firm based in Chile that had previously invested in Scanntech , also contributed $1.5 million in the recent round. Mr. Velez and Austral's Felipe Camposano serve on Scanntech's board.
Scanntech considers Brazil critical to its growth and is also looking to Asia, said one of Scanntech's co-founders, Raúl Polakof.
Sequoia may seem an unlikely partner because it does not have deep expertise in Brazil. But Mr. Polakof said that the venture capital firm's expansive reach made it appealing. "I want Scanntech to become a global company," he said.
He also said that Sequoia would not invest less than $10 million, the total that Scanntech sought to raise, which prevented it from bringing on Brazilian firms as co-investors.
"For the next two years, I do not want to have to raise more capital," Mr. Polakof said.
Sequoia's second investment was in Despegar, an online travel company for the region based in Argentina and Brazil. Founded in 1999, the company's majority shareholder is Tiger Global Management.
Despegar declined to comment on the investment, but Securities and Exchange Commission filings indicate that the company has raised a total of $50.85 million in recent months. Its investors include Sequoia and Accel Partners.
Article source: http://dealbook.nytimes.com/2012/05/23/sequoia-capital-said-to-be-expanding-to-brazil/?partner=rss&emc=rss