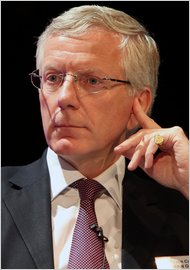 Sebastien Nogier/ReutersPeter Clarke, chief of Man Group.
LONDON – Shares in Man Group, the world's largest publicly traded hedge fund manager, rose sharply on Tuesday after the firm announced a new round of cost cuts aimed at stemming the continuing decline in its assets under management.
Man Group said it would find an additional $100 million of cost savings by the end of 2013, according to a company statement. The announcement builds on a plan unveiled in March to cut costs by $95 million.
Despite the cost reductions, investors continue to pull money out of the hedge fund group. By the end of June, Man Group said its assets under management had fallen 26 percent, to $52.7 billion, from the period a year earlier.
"Against a turbulent market and economic background, Man's funds under management have declined in the period principally as a result of continued net outflows and the deleveraging of our guaranteed products," Man Group's chief executive, Peter Clarke, said in a statement.
Amid the financial crisis, Man Group has suffered from a crumbling stock price and poor market performance. Analysts have also speculated that the firm, based in London, could become a takeover target for a buyer looking to pick up an asset manager on the cheap.
Investors, however, reacted positively on Tuesday to Man Group's new round of cost savings. The firm's share price, which has fallen about 69 percent in the last 12 months, rose as much as 12 percent in early trading in London. By the afternoon, Man Group's shares had given up some of their gains, but were still trading 4 percent higher.
Man Group on Tuesday reported a $164 million pretax loss in the first six months of the year because of write-downs connected to its GLG division and fund-of-funds unit. Man Group merged with GLG, another multibillion-dollar hedge fund, in 2010.
As part of an executive shake-up, Man Group said last month that Jonathan Sorrell, who joined the firm last summer as head of strategy after his departure from Goldman Sachs, would succeed Kevin Hayes as its finance director.
Article source: http://dealbook.nytimes.com/2012/07/24/man-group-announces-more-cost-savings-as-assets-fall/?partner=rss&emc=rss