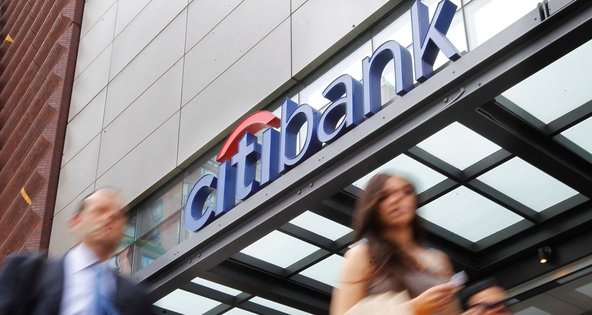 Brendan McDermid/ReutersA Citibank branch in New York.
5:18 p.m. | Updated
Citigroup's wager that international lending will offset a sluggish recovery in the United States started to pay off Monday when the bank reported third-quarter earnings.
Although Citigroup's quarterly profit plummeted because of a multibillion-dollar loss related to its continued exit from Morgan Stanley Smith Barney, the bank increased its lending, particularly in Latin America, and snagged a larger share of capital markets business.
Citigroup, the nation's third-largest bank by assets, behind JPMorgan Chase and Bank of America, reported net income of $468 million, or 15 cents a share, on revenue of $14 billion, compared with net income of $3.8 billion, or $1.23 a share, in the quarter a year earlier.
Related Links
Beneath the drop in revenue, though, the bank has a number of strong core businesses. Under the leadership of Vikram S. Pandit, Citi has devoted much of its resources and tied its hopes for future profitability to banking in developing countries, where there is comparatively more growth and less crippling economic uncertainty than in the United States.
Last month, Citigroup agreed to sell its part of Morgan Stanley Smith Barney, the joint brokerage venture, to Morgan Stanley, beginning with a 14 percent stake. Citigroup said at the time that it was writing down the value of its remaining interest in the business.
Citigroup is still trying to work through the glut of bad assets it holds in its Citi Holdings unit, which reported a $3.56 billion loss in the third quarter, up from a $1.23 billion loss in the same period of last year. Without the charge related to Morgan Stanley Smith Barney, the losses in that unit are reduced to $679 million.
Excluding the loss on its brokerage unit, a one-time accounting charge and credit adjustments, the bank reported a profit of $3.27 billion, or $1.06 a share, up from $2.57 billion, or 84 cents a share, in the period a year earlier. The results beat analyst expectations of earnings per share of 96 cents on revenue of $18.7 billion. The bank's stock was up more than 5 percent, to $36.66, on the results.
Since barely limping through the 2008 financial crisis, Citi has been working to forge a new direction that will help restore the bank to profitability. As part of its strategy, Citi has worked to sharply reduce the bank's expenses and credit losses while trying to shed its most troubled assets.
The bank's efforts at a revival have been hampered, though, by obstacles and missteps. In March, citing concerns that Citi might not have enough cash to withstand the most extreme economic downturn, the Federal Reserve scuttled the bank's plans to raise its dividend or increase share buybacks. The move was a tough blow for Citi, especially because most of the bank's rivals were allowed to raise dividend payments. After the Fed decision, Citi's shareholders rebuffed a $15 million pay package for Mr. Pandit, the chief executive, in April.
On Monday, Citi was able to trumpet growth in its core businesses like consumer lending and investment banking. "Our core businesses showed momentum during the quarter as we increased lending and generated higher operating revenues," Mr. Pandit said in a statement.
John C. Gerspach, the bank's chief financial officer, echoed Mr. Pandit's assertion on a conference call on Monday, pointing out the "underlying growth story in the numbers."
Citi is being buoyed by greater demand for loans in Latin America. Mr. Gerspach said the consumer lending unit in Latin America was having "4 percent, 5 percent growth quarter over quarter." Revenue in the region grew 7 percent, to $2.4 billion.
Profit in its international consumer banking unit fell 3 percent, to $862 million, from $885 million in the period a year earlier. Activity in Asia was hurt, in part, by lower interest rates that tamp down revenue the bank can get from its lending in the region.
In South Korea, Citi had to navigate a shifting regulatory landscape, especially when the country's officials capped interest rates on a variety of consumer loans.
While Citigroup did not get the same help from mortgages as rivals like JPMorgan Chase and Wells Fargo, which reported robust profits on Friday from a refinancing frenzy, the bank reported an 18 percent increase in profit in its North American banking segment, in part because of mortgage lending. Even though mortgage originations were down, revenue in the unit was up, in part as a result of widening spreads on the loans.
Across the bank, consumer banking posted revenue gains of 2 percent, to $10.2 billion, from the period a year earlier, while net income in the consumer banking unit increased 18 percent, to $2.2 billion.
Another bright spot for Citigroup on Monday was the 67 percent increase in profit from its securities and banking unit, as the bank benefited from revived capital market activity.
"We continue to gain market share in investment banking," Mr. Gerspach said. He pointed to "improved market share in every investment product."
Equity trading in the investment bank soared 76 percent from the same period a year earlier.
Some analysts took note on Monday. The results in the investment banking and securities business were "much better than we were expecting," Gerard S. Cassidy, an analyst with RBC Capital Markets, said in a research report.
Other banking analysts were also heartened by Citi's results. "Several moving parts, but mostly progress everywhere," Glenn Schorr, an analyst with Nomura, said in a research note.
Article source: http://dealbook.nytimes.com/2012/10/15/citigroup-earnings-plummet-in-third-quarter/?partner=rss&emc=rss