A couple years ago, I gave my mother a digital picture frame so she could look at a rotating series of family photos. The picture frame eventually ended up unplugged and tucked away in a corner because it was so hard for her to update with fresh photos.
Last fall, the company Familiar began rolling out a series of apps for computers and devices like the iPad, iPhone and Kindle that turns the screen of every one of those machines into a digital picture frame. The product is a lot easier to use than the cheap digital frames like the one I bought my mother, that can only be updated with fresh photos by cabling them to a computer. And the Familiar app is a lot cheaper (it's free) than buying one of the more expensive Internet-connected digital picture frames.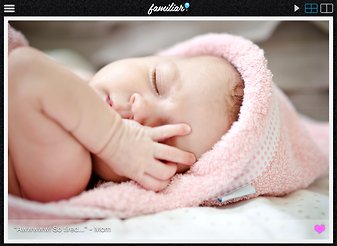 The app has started to catch on. On Tuesday, Familiar announced that it displayed over 20 million photos for its users during August, up from one million in January. The company has raised $1.3 million to expand its service from Greylock Partners, Redpoint Ventures, Index Ventures, Acequia Capital and Allen Company.
The Familiar app acts essentially like a screensaver for your devices, but instead of swirling fractals, the app displays photos that have been pushed to your screen by family members and friends. There are, of course, a countless number of ways to share pictures with your family, ranging from photo-sharing sites to e-mail.
Marcus Womack, the chief executive and co-founder of Familiar, says his company's approach is a better way to surprise people you know with images without them having to take any action, other than running the app. "We provide a lot more serendipity," he said.
Article source: http://bits.blogs.nytimes.com/2012/09/18/a-boost-for-an-app-that-replaces-digital-picture-frames/?partner=rss&emc=rss