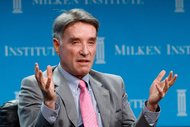 Mario Anzuoni/ReutersEike Batista, chairman and chief executive of EBX Group, has vowed to become the richest man in the world.
SÃO PAULO, Brazil — The Brazilian billionaire Eike Batista confirmed Tuesday that he was negotiating to sell part of his stake in MPX, his natural gas and electricity generation company that has over $3 billion in debt and several generation projects running behind schedule.
Mr. Batista is in negotiations "about the potential sale of a certain number of MPX shares that belong to him" but "at the moment, no document of any kind has been signed," according to the filing with the Comissão de Valores Mobiliários, Brazil's securities and exchange commission.
Brazilian newspapers reported last Friday that the German utility E.On would purchase 27 percent of MPX's shares — half of Mr. Batista's stake — for 1.8 billion reais ($910 million). E.On had previously bought a 10 percent stake in MPX for $456 million in 2012. According to the newspaper O Estado de São Paulo, an equity issuance would follow in order to reduce E.On's participation to below 35 percent.
Mr. Batista is one of Brazil's most public and colorful billionaires, who has vowed to become the richest man in the world. He has built a small empire of companies that all end in the letter X, which he says represents the multiplication of wealth that shareholders can expect.
But several of his ventures have failed to meet expectations and have seen debt levels rise faster than profits. Since March 2012, his five "X" firms have lost 54 billion reais ($27.3 billion) in market value on the São Paulo stock exchange.
In the 2013 Forbes list of the richest people in the world, Mr. Batista fell to 100th place, from the seventh place he had had the year before. Forbes estimated that his net worth fell by $19.4 billion to $10.6 billion.
EBX Group, Mr. Batista's holding company for his five firms, signed a strategic cooperation agreement on March 6 with the Brazilian investment bank BTG Pactual, which reportedly is closely involved in the negotiations over MPX.
Rumors in the Brazilian financial press are that Mr. Batista's troubled petroleum company OGX may be next on the block, with BTG Pactual once again involved in the deal-making.
Article source: http://dealbook.nytimes.com/2013/03/19/brazilian-billionaire-confirms-talks-to-sell-stake-in-energy-firm/?partner=rss&emc=rss