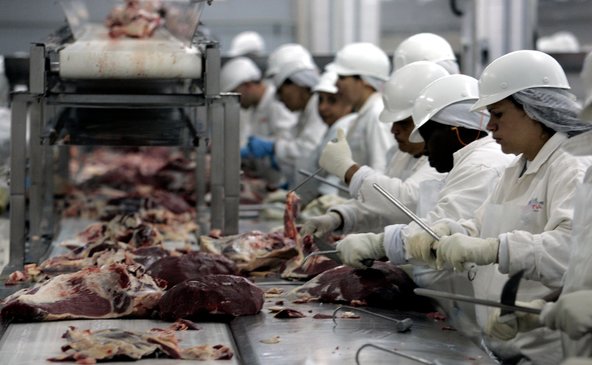 Paulo Whitaker/ReutersA JBS meat packing plan in Sao Paulo, Brazil, in 2005.
Brazil's food sector took a move toward consolidation on Monday, as Marfrig announced the sale of its subsidiaries Seara Brasil and Zenda to its rival JBS.
As payment, JBS will assume 5.85 billion reais, or $2.7 billion, of Marfrig's debt, according to documents filed with the Comissão de Valores Mobiliários.
Marfrig, which before the sale had more than 13 billion reais, or $6 billion, in debt, had said in May it would seek to sell off subsidiaries as part of a restructuring plan. The units in the announcement Monday include pork and poultry operations in Brazil and leather operations in neighboring Uruguay.
Marfrig's chief executive, Sergio Rial, said in a news conference on Monday that the deal would reduce his company's size by a third, cutting revenue to 16 billion reais, or $7.4 billion, from 28 billion reais.
Mr. Rial also said no banks were involved in brokering this deal, which will make JBS the second-largest food processor in Brazil and the largest poultry company in the world, according to JBS's chief executive, Wesley Batista.
JBS, already the world's biggest producer of beef, will now have more than 100 billion reais, or $46 billion, in global revenue. Its American operations include the Pilgrim's Pride poultry brand.
Mr. Batista said that despite the added debt, JBS had the capacity to finance the operation without issuing new debt or equity, but "it is too soon to know if we will access the capital markets."
The boards of both companies have approved the operation, but JBS's shareholders must still vote on the deal, and Brazil's antitrust authority, the Conselho Administrativa de Defesa Econômico, must also approve the operation for it to go through.
Market reaction in São Paulo on Monday was far more positive for Marfrig, which may have found a way out of its debt burden, than for JBS.
Early afternoon on the BMF Bovespa, Marfrig shares were up nearly 9 percent, while JBS's shares were down more than 7 percent.
Article source: http://dealbook.nytimes.com/2013/06/10/jbs-of-brazil-in-2-7-billion-deal/?partner=rss&emc=rss