The median age of first marriage is at an all-time high, according to a new report from the Pew Research Center based on United States Census Bureau data.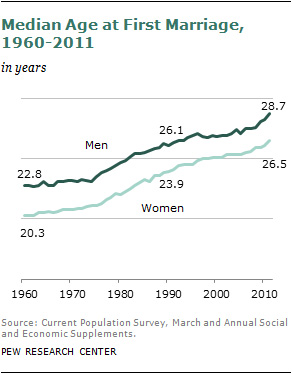 In 2010, the median age at first marriage for women was 26.5 years, and for men it was 28.7 years. Fifty years ago, the comparable ages were about six years younger for both genders.
The total number of new marriages was also at a record low last year, perhaps in part because the poor economy was causing couples to delay forming new families. (The connection between economic conditions and marriage rates is murky, however.)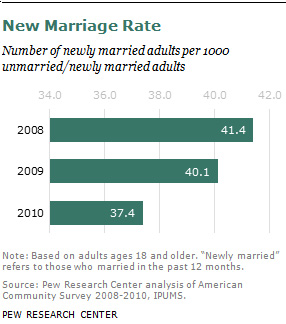 The biggest declines in new marriage rates was among the youngest Americans. As a result of the declining number of weddings in recent years, just 9 percent of Americans age 18 to 24 had a spouse in 2010, about a fifth of the share for this age group in 1960.
With the overall declines in marriage rates, it is unclear if young people are simply delaying marriage or rejecting it altogether. But given how many unmarried Americans say they are not interested in matrimonial bliss, there is reason to think it is largely the latter.
Article source: http://feeds.nytimes.com/click.phdo?i=d9b965ee29296f58b46d97b5ad7b1bc1