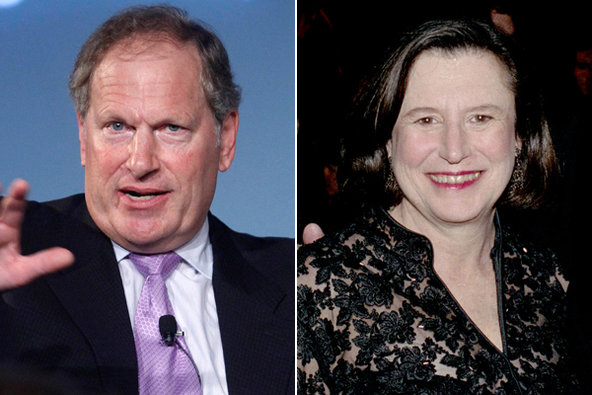 Carlo Allegri/ReutersDavid M. Cote and Ellen V. Futter, directors of JPMorgan Chase, were criticized for their lack of financial experience.
1:27 p.m. | Updated
Two directors at JPMorgan Chase who  received lackluster support from shareholders at the bank's annual meeting in May resigned on Friday.
The two board members, David M. Cote and Ellen V. Futter, were re-elected at the meeting, but narrowly.
Mr. Cote, the chairman and chief executive of Honeywell International, resigned after five years with the bank. Ms. Futter, the president of the American Museum of Natural History, had been on the board 16 years, JPMorgan said in a statement on Friday.
Related Links
Both Mr. Cote and Ms. Futter, members of the board's risk committee, were buffeted by criticism after multibillion-dollar trading losses  that emerged last year from JPMorgan's chief investment office in London. Some investors said the risk committee lacked the financial prowess to safeguard against the kind of trading losses that hit JPMorgan.
The trading debacle was also widely viewed as a black mark on the leadership of Jamie Dimon, the bank's charismatic chairman and chief executive. A shareholder proposal to split Mr. Dimon's two roles, while aimed at bolstering corporate governance, became a kind of referendum on Mr. Dimon's stewardship of the bank.
It was a test he handily passed. Nearly 70 percent of the shares were voted to reject a proposal for an independent chairman. To voice their dissatisfaction, a small but vocal group of shareholders agitated against some of the board members' re-election.
Shortly before the annual meeting in Tampa, Fla., Ms. Futter decided to resign, according to people with knowledge of the matter who spoke only anonymously. She was said to be sick of the swirl of negative attention clouding her service on the board, and worried that it would divert attention from both JPMorgan's strong points and from the American Museum of Natural History.
Those plans changed, though, when Mr. Dimon called her to urge her to stay. A sudden resignation by a bank director, the people said, would have needlessly drawn attention from the centerpiece of the annual meeting: Mr. Dimon's victory.
She was  re-elected with the lowest amount of support among directors, 53.1 percent of the vote. Mr. Cote was re-elected with 59.3 percent of the vote.
"I want to thank Ellen and Dave for their dedicated service to our firm," Mr. Dimon said in a statement. "We have learned a great deal from both of them and will miss having them as members of our board."
Mr. Dimon also reiterated his support for Mr. Cote on Friday. "As chairman and C.E.O. of Honeywell, Dave brought exceptional experience to JPMorgan Chase across a broad spectrum of issues., " Mr. Dimon said in a statement. "He is a highly talented executive, and we were all fortunate to benefit from his knowledge and leadership."
Despite JPMorgan's overwhelming support for its board, criticism mounted as the annual meeting drew near in May.
Before the meeting, an influential shareholder advisory firm, Institutional Shareholder Services, or I.S.S., urged shareholders not to vote for three directors, including Mr. Cote and Ms. Futter.
In its report, the firm cited "material failures of stewardship and risk oversight" in the wake of the trading loss last year. For the advisory firm, it was a rare challenge, because the company noted that it only recommends that shareholders oppose directors under "extraordinary circumstances."
The report, which came amid cries for an overhaul of JPMorgan's board leadership, was another hurdle for the bank as it worked to restore its reputation as an astute manager of risk — an accolade JPMorgan won after emerging from the 2008 financial crisis in far better shape than its rivals.
While all three directors, including Mr. Cote and Ms. Futter, had served on the risk committee when JPMorgan navigated through that crisis, I.S.S. criticized them for not having strong enough backgrounds in risk management. Its report said "it is odd" that the bank's biggest rivals had managed to find directors with stronger qualifications.
Ms. Futter had also served on the board of the insurance giant American International Group, which nearly collapsed in the 2008 financial crisis. Last year, 86 percent of shareholders voted for Ms. Futter, the lowest level of support for any director who was up for re-election at the bank that year.
Mr. Cote, as chief executive of Honeywell International, heads an industrial company, not a financial firm, I.S.S. noted, leaving him potentially lacking in relevant experience.
JPMorgan steadfastly stood by its board members ahead of the annual meeting. The board, JPMorgan executives noted, moved to cut Mr. Dimon's compensation by 50 percent earlier this year. It also demanded a full accounting of what precipitated the trading loss and clawed back millions of dollars in compensation from the executives at the center of the bungled trades. And some executives inside the bank said that while Ms. Futter was not be a banker, she did bring perspective on reputational risk.
Both Mr. Dimon and Lee Raymond, the lead director of the board, have vowed to further rectify risk lapses and improve controls.
At the bank's annual meeting, Mr. Raymond, the former chief executive of Exxon, hinted at the change. He told shareholders to "stay tuned" when he was asked if the board is planning to make changes to the risk committee.
Still, JPMorgan shareholders have much to be thankful for. Last week, the bank reported its 13th consecutive quarterly profit. JPMorgan has gained market share and has managed to buck many trends rattling its rivals.
JPMorgan said Friday that it would appoint new directors to the board later this year.
Article source: http://dealbook.nytimes.com/2013/07/19/2-jpmorgan-directors-resign/?partner=rss&emc=rss