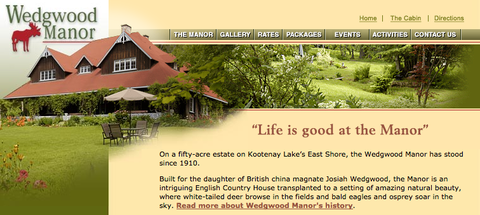 What's wrong with this site?
Nancy Galloway and Andre Laporte are living what is, for many, the ultimate retirement dream: owning and operating a bed breakfast. Their current challenge is figuring out the best ways to attract visitors to their Web site and, ultimately, to a very remote part of Canada where the nearest traffic light is an hour away.
About 10 years ago, as they neared retirement from their careers as diplomats, Ms. Galloway convinced her husband that the next phase in their lives might best be enjoyed running a picturesque bed breakfast somewhere in the country. After conversations with a neighbor who was running a consortium of BBs, they agreed to test the concept by allowing him to convert the second floor of their home in the Logan Circle neighborhood of Washington into a BB.
As they learned the industry, Ms. Galloway began the search on BBCanada.com for a retirement location. They considered Montreal and Vancouver, B.C., but both seemed too competitive, so the couple focused on smaller locales and found their answer in the quaint mountain valley town of Crawford Bay, B.C. Population: 250.
In 2003, when Ms. Galloway and Mr. Laporte moved in, the Wedgwood Manor Country Inn had been functioning as a BB for 18 years, but it was in need of an update. They invested $565,000 to buy the property and over the past 10 years, they have invested another $95,000 in renovations. Their purchase included the six-room main building, two cabins and a pink-themed Web site that demanded a makeover.
It got it at the hands of a longtime friend who was working at a Web-design firm in Ottawa. She revamped the site for $5,000, and the couple spent an additional $3,600 on two photographers. To attract visitors, the designer employed software to better understand what words and phrases people were using to search for vacations. Over the years, when Ms. Galloway updated the copy on the site, she would refer to the same list.
In 2012 the inn generated revenue of roughly $100,000, and the site attracted between 800 and 1,000 visits a month. In an average month, approximately 40 percent of the inn's Web traffic arrived through search engines. Some 30 percent discovered the business through industry sites like bbcanada.com and cabinrentalbc.com. Because of this, the couple has earmarked $4,000, about 85 percent of their marketing budget, to get the inn listed on relevant sites.
While most nights found the inn at capacity, Ms. Galloway believes a more compelling site will attract a few more guests and also convince more visitors to book their stays online — without making a phone call.  She is also hoping that refreshing the site's content will attract younger travelers. In recent years, the average guest has been over 50; she is hoping to book more couples and families in their early 30s and 40s, and she thinks optimizing the site for tablets and smartphones will help.
She also wants to market the inn as a place for "BB people" — as opposed to "hotel people" — by playing up the property's social feel, where guests can meet and mingle over meals and afternoon refreshments. And she wants to highlight the area's artisan community and small-town feel.
Before embarking on a Web site overhaul, Ms.Laporte is looking for guidance on the following questions:
– What design elements and information should the site offer?
– What type of information, photography or description is missing or can be improved upon?
– What other factors for a vacation area should the couple include?
– Is it time to update that list of terms? What else could she do to improve search engine optimization.
Next week, we'll follow up with highlights from your comments and I'll offer my own impressions along with Ms. Galloway's response.
Would you like to have your business's Web site or mobile app reviewed? This is an opportunity for companies looking for an honest (and free) appraisal of their online presence and marketing efforts.
To be considered, please tell us  about your experiences — why you started your site, what works, what doesn't and why you would like to have the site reviewed — in an e-mail to youretheboss@abesmarket.com.
Richard Demb is co-founder of Abe's Market, an online marketplace for natural products that is based in Chicago.
Article source: http://boss.blogs.nytimes.com/2013/03/27/living-the-bb-dream-a-couple-plans-to-update-an-inns-web-site/?partner=rss&emc=rss