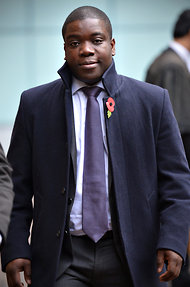 Carl Court/Agence France-Presse — Getty ImagesKweku M. Adoboli, a former UBS trader whose risky trades resulted in a multibillion-dollar loss, claims the bank knew of and encouraged his actions.
LONDON — Kweku M. Adoboli, a former UBS trader in London, was cast by the defense in closing arguments on Friday as the scapegoat for a multibillion-dollar loss at the Swiss bank.
Charles Sherrard, Mr. Adoboli's lawyer, told the jury that the bank's management had singled out his client after a series of scandals and missteps at UBS. "He has had to bare the brunt about what has been going on at UBS," Mr. Sherrard told the jury. "He has been blamed for redundancies, the share price fall and reputational damage."
Mr. Adoboli, 32, is charged with six counts of fraud and false accounting in connection with a $2.3 billion loss at the bank. If convicted, he could face more than 10 years in prison. He has pleaded not guilty to the charges. The case should go to the jury early next week.
Over the course of the trial, the prosecution portrayed Mr. Adoboli as an "arrogant" investment banker who sidestepped the rules when it suited him. On Thursday, Sasha Wass, the lead prosecutor, called him a "gambler" who was "playing God" with the bank's money.
The defense argued that the allegations represented a "character assassination," which failed to highlight the role of the management of UBS in condoning his trading activity. Mr. Sherrard added that the bank's actions were representative of an industry driven solely to make money, an industry that puts enormous pressure on traders to make profits.
"Senior management are never to blame," Mr. Sherrard said.
UBS is not a defendant in the case, and is not permitted to comment on criminal cases, according to British law.
During almost five hours of closing arguments on Friday, the defense rebutted accusations that Mr. Adoboli acted alone to create false trades and hide losses from 2008 to 2011. Mr. Sherrard told the jury that several layers of management knew about the activities, but they did not stop Mr. Adoboli because he was earning profits.
Mr. Adoboli joined UBS in 2003 and rose quickly to work on the Delta One desk, a plain-vanilla version of derivatives trading. Traders in the unit create investments that track specific financial assets, like a basket of company stocks.
He is accused of creating false trades to hide his losses, according to prosecutors. They claimed that Mr. Adoboli created separate accounts, which he called his "umbrella," to mask the profits and losses from his unauthorized activities.
The defense said Mr. Adoboli's activities were well known in the bank. His supervisors, according to the defense, condoned the actions because they proved to be profitable.
Mr. Adoboli's team earned $8.8 million in 2010, Mr. Sherrard said. That figure rose to $52 million for just the second quarter of 2011. In a single day, the unit posted a $6 million profit, he said.
"The next level of supervisors knew much of what he was doing," Mr. Sherrard said. "For almost three years, everyone basked in his glory."
While Mr. Sherrard acknowledged that his client had lied to UBS officials, he said Mr. Adoboli had been buying time to recoup his losses. The former trader also initially said he was solely to blame to protect his colleagues, his lawyer claimed.
Later, Mr. Adoboli said others at UBS had been aware of his actions. Mr. Sherrard also told the jury that members of his client's team used the so-called umbrella to cover up their trading activity.
The prosecutors are "trying to desperately portray this man as a rogue trader," his lawyer said. "The minute you see that the whole desk was working as a team," the prosecution's case falls apart, Mr. Sherrard added.
The defense similarly countered claims that Mr. Adoboli had gambled with the bank's money for personal gain. Mr. Sherrard read excerpts from the former trader's UBS evaluations, which portrayed him as hard-working, humble team player. He added that these glowing reviews debunked accusations that he was driven by profit.
"The notion is absurd," Mr. Sherrard said.
Article source: http://dealbook.nytimes.com/2012/11/09/jury-is-told-ex-ubs-trader-was-made-a-scapegoat-for-banks-woes/?partner=rss&emc=rss