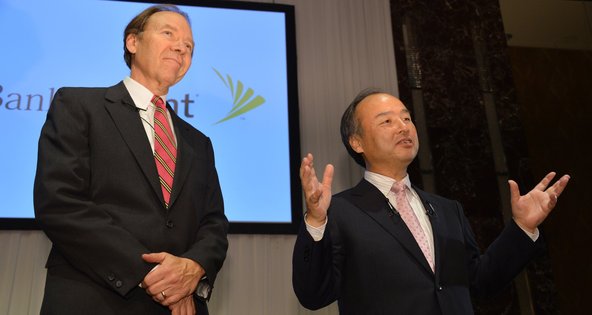 Yoshikazu Tsuno/Agence France-Presse — Getty ImagesDaniel Hesse, left, the chief of Sprint Nextel, and Masayoshi Son, the president of SoftBank, announced the deal in Tokyo on Monday.
4:15 a.m. Monday | Updated
The struggling cellphone service provider Sprint Nextel has agreed to sell 70 percent of itself to SoftBank of Japan for $20.1 billion, its boldest move yet to revive its fortunes.
In a statement on Monday, SoftBank, a big Japanese telecommunications company, said it would pay $8 billion to buy newly issued Sprint stock worth about $5.25 a share. It will then pay $12.1 billion to buy existing stock from other investors at $7.30 a share, a premium to current levels.
The deal remains subject to approval by regulators and Sprint's shareholders, but has been approved by the boards of both companies, SoftBank said in the statement. The transaction is expected to close in the middle of 2013.
Related Links
Shares in Sprint have risen 14 percent since the wireless company confirmed on Thursday that it was in negotiations with SoftBank, closing at $5.73 on Friday.
Sprint is also working to gain more control over Clearwire, a wireless broadband company in which it owns a large stake, people familiar with the matter said. But closing the transaction with SoftBank is the biggest priority for now.
Once completed, the deal would give Sprint some much-needed cash as it aims to compete against its bigger rivals, Verizon Wireless and ATT.
Sprint, which has long struggled to recover from its 2005 merger with Nextel, has been spending billions of dollars to build a next-generation data network to support the latest smartphones like the Apple iPhone 5.
It remains well behind Verizon and ATT in offering Long-Term Evolution, or LTE, data service, though the company is well ahead of T-Mobile USA, the country's fourth-largest wireless service provider.
At the same time, Sprint is laboring under nearly $21 billion of debt, some of which is set to mature next year.
And if a proposed merger of T-Mobile and MetroPCS is completed, Sprint will face a tougher competitor in the world of lower-priced cellphone service. Both companies have pitched unlimited data plans to customers at lower costs than those for plans offered by the big two providers.
Sprint has often hinted that deal-making was in its future. Its chief executive, Daniel Hesse, has said that he expects to participate in the industry's continuing consolidation.
But the deal with SoftBank came as a surprise to many analysts and investors. Until now, the Japanese company has been focused on gaining share in its home market, largely through acquisitions and building out an LTE high-speed data network. And until recently, it had been focused on reducing its enormous debt load, which stood at nearly $13 billion as of June 30.
Shares of SoftBank fell nearly 17 percent after it confirmed the talks last week and dropped another 5.3 percent, closing at 2,268 yen apiece, in trading in Tokyo on Monday.
Still, the Japanese company's chief executive, Masayoshi Son, has harbored ambitions to move into the much bigger American market. Sprint has been one of the few significant players up for grabs, and may eventually serve as a vehicle for future deals — perhaps even one for the enlarged T-Mobile, several years from now.
The two sides are betting that American government regulators will favor any transaction that strengthens competition, avoiding the harsh opposition to ATT's $39 billion bid for T-Mobile last year.
Mr. Son, an Internet entrepreneur, had already broken into an industry dominated by two established rivals when he bought Vodafone's Japanese arm in 2006. He has steadily built the company into a major new competitor, one poised to become Japan's second-biggest wireless service provider, after NTT DoCoMo, with the acquisition of a smaller rival, eAccess.
The Raine Group and Mizuho Securities were lead financial advisers to SoftBank. Deutsche Bank also provided legal advice. SoftBank's legal advisers included Morrison Foerster as lead counsel, Mori Hamada Matsumoto as Japanese counsel, Dow Lohnes as regulatory counsel, Potter Anderson Corroon LLP as Delaware counsel, and Foulston Siefkin LLP as Kansas counsel.
Citigroup, Rothschild and UBS advised Sprint. Skadden, Arps, Slate, Meagher Flom was lead counsel to Sprint. Lawler, Metzger, Keeney Logan served as regulatory counsel, and Polsinelli Shughart served as Kansas counsel.
A version of this article appeared in print on 10/15/2012, on page B3 of the NewYork edition with the headline: Sprint Said to Be in Final Stages of Selling Most of Itself to SoftBank of Japan.
Article source: http://dealbook.nytimes.com/2012/10/14/sprint-gets-closer-to-a-deal-with-softbank/?partner=rss&emc=rss