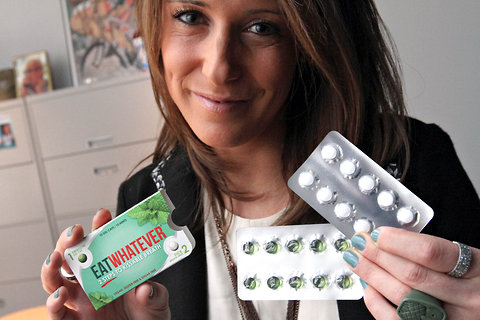 Tina Fineberg for The New York TimesJacqui Rosshandler, founder of Eatwhatever: "I certainly didn't get railroaded."
What would you do with this business?
Last week, we published a case study about a start-up founded by a young Australian expatriate who faced a difficult choice — just how difficult was revealed by the scores of conflicting reader comments that poured in to this blog. The choice belonged to Jacqui Rosshandler, who was about to run out of money: she could mothball her breath freshener business, Eatwhatever, and find a job, or she could accept the financial lifeline offered by Arthur Shorin, longtime owner of the Topps Company, who had sold his company and was nurturing start-ups.
It was Mr. Shorin's terms that made the choice difficult. He wanted 75 percent of Ms. Rosshandler's company, Jacquii L.L.C. In return, he offered a $250,000 infusion of capital; a job with his New York company, Artuitive; and the opportunity to earn back 15 percent of the business if certain financial goals were met — which would bring her to 40 percent ownership of a company that had been all hers.
In a recent interview, condensed and edited below, Ms. Rosshandler explained why she said yes to Mr. Shorin's offer last February — and also responded to some of those reader comments.
Our readers seemed to be split on what you should do. Was it an agonizing decision for you?
It wasn't agonizing. It was more about negotiating the terms of the deal that took quite a while. It wasn't simply that he offered me a deal and I just said yes. There was a lot of back and forth. It took maybe six weeks to negotiate the terms. But I was very sure that I wanted him involved.
Why?
I immediately realized Arthur was very smart. I figured he knew the candy business. He grew up in those factories knowing every part of the business. But I think most important, when I met other people he worked with — his accountant, buyers — I discovered that they'd been working with him for 40 years. People who have a bad reputation in business generally don't have the same people around them for many, many years. Plus, it was amazing how many of them said to me, "You are so lucky to work with Arthur. He's going to make this product huge for you."
What did you gain in those negotiations — to answer those who worried that you got railroaded?
I certainly didn't get railroaded. I feel like a lot of people looked at this from a very strict venture capital standpoint, that I gave up control for $250,000. That's not the case at all. I wanted to make sure that I would have a say in decision-making. I made some gains. Arthur made some gains in the negotiations. I'm a lawyer by trade and a bit skeptical of people — and I was suspicious to a point to begin with. But there was something about him that I just trusted. I think it had a lot to do with his personality. I went with my gut. I felt this was a guy I could trust. Now, I would trust him with anything.
Two of the commentators we quoted and many readers who advised you to turn down the offer had tough words for Mr. Shorin. What's been his reaction?
He was more concerned with my reputation and the product's reputation than his own. I think he feels that anybody who knows him knows that he would never take advantage of anybody. I understand it could look like that, without understanding the relationship we have. We're really a partnership. It doesn't feel at all like I've been belittled and I have to run his company according to how he wants it done. I basically get the final say on everything. We work together. We talk every single day. We go to some major meetings together, some I go to alone. But I'm basically running the company the same way that I did, but with the bonus of having this person who's been involved in this industry for years.
What early input and advice did he offer?
Originally, you had to take two of the gel caps. At his suggestion, we reformulated them to make the gel caps stronger so you only need one gel cap and one mint. Great advice. We toned down the sexual innuendo when we did a complete repackaging. Sales before I met Arthur were low because the packaging was not great, the messaging wasn't as clear. We fixed that. And he made sure we trademarked "2 Steps to Kissable Breath."
Mr. Shorin pledged to invest at least $250,000 — and more, if justified, to help jump-start the business. How much did he invest in 2012?
He's actually invested more money, around a half million dollars, so far.
Where did the money go?
Production of product and marketing. We do a lot of social media and sampling. We really want to build our reputation in New York, because it is so accessible for us and it is such a trend-setting city. We made a 30-second TV ad that ran locally for three weeks last November when Eatwhatever hit the shelves in 250 Duane Reade stores in New York City.
When I spoke with Mr. Shorin, he expected 2012 sales to reach $500,000. Did the business actually grow more than tenfold last year?
Yes, it has. He has made such a difference. That's why when people say, Oh you can borrow money from family or friends, or get it from crowdsourcing, it's just not the same. The doors that he has opened by being someone in the business his entire life — family money can't buy that.
What doors did he open?
Duane Reade was very excited about the product, very happy to bring it on. The actual sale took about five minutes. But it took a year for me to get in to see them, and the only reason they saw me was I got to the right broker, who Arthur introduced me to.
What's in store for 2013?
The margins and rate of sale on the breath freshener are fabulous. It's certainly our focus, but we'd like to extend the brand name into other products. We're looking at a few other products, all with the same sort of distribution model — all healthy, good-for-you products. What we'd like to do is sell confidence. And a whole lot of different products can fit into that category. I would like to see a second product release midway through this year.
Article source: http://boss.blogs.nytimes.com/2013/01/09/why-the-founder-of-a-start-up-chose-to-give-up-control/?partner=rss&emc=rss