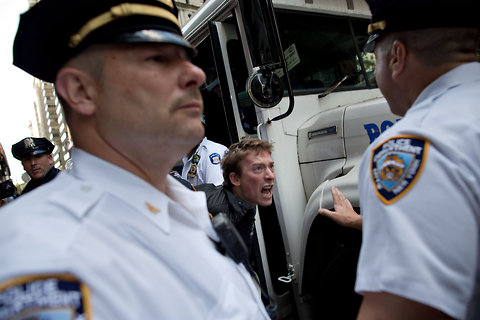 Marcus Yam for The New York Times A protester was arrested on Monday in Lower Manhattan on the first anniversary of the Occupy Wall Street movement.
Updated, 12:32 p.m. | More than 100 arrests were reported on Monday, the first anniversary of the Occupy Wall Street movement, as protesters converged near the New York Stock Exchange and tried to block access to the exchange.
Demonstrators had planned to converge from several directions to form a "human wall" around the stock exchange to protest what they said was an unfair economic system that benefited the rich and corporations at the expense of ordinary citizens.
Police officers and protesters squared off at various points, with protesters briefly blocking intersections and sidewalks before being dispersed and sometimes arrested.
The police appeared prepared to counter the protesters' blockade with one of their own, ringing the streets and sidewalks leading to the exchange with metal barricades and asking for identification from workers seeking to gain access.
Meanwhile, Occupy supporters marched through the streets waving banners and accompanied by bands playing "Happy Birthday."
Police officers repeatedly warned protesters that they could be arrested if they did not keep moving. Most of those arrested were charged with disorderly conduct, the police said.
At one point, at Broad Street and Beaver Street, a police commander grabbed a man from a crowd. Protesters tried to pull the man free, but officers surged forward and wrested the man back and placing him in handcuffs.
One of the more tense episodes took place as several hundred people marched slowly along Broadway. As part of the group passed Wall Street, a line of officers separated the marchers into two parts. A few moments later, officers approached a man who had been objecting loudly to the metal barricades that cordoned off Wall Street. The officers grabbed the man, who yelled "I did nothing wrong," then removed him. As they were leading him away, a line of officers pushed a crowd, which included news photographers, away from the arrest.
One officer repeatedly shoved photographers with a baton and a police lieutenant warned that no more photographs should be taken. "That's over," the officer said.
By midday, 124 people had been arrested. The arrests were mostly on disorderly conduct charges "for impeding vehicular or pedestrian traffic," according to Paul J. Browne, the Police Department's chief spokesman. On Saturday and Sunday, the police arrested 43 people in connection with the protests, Mr. Browne said. While most of those arrests involved charges of disorderly conduct, he said that some were on assault and resisting arrest charges.
Police vans were parked on side streets throughout the financial district and helicopters buzzed overhead. Men in suits walking to work passed contingents of officers posted on corners.
One early gathering spot on Monday was the Vietnam Veterans memorial on Water Street where about 400 protesters assembled. About 200 people had gathered at Zuccotti Park, which protesters took over last year and used as an encampment.
At the veterans memorial plaza Oren Goldberg, 32, from Bushwick, Brooklyn, said, "It's exciting to see any group of people attempting any sort of change," adding that Occupy participants were interested in "working toward a greater good than profiteering."
Next to him, Grace de la Aguilera, 27, a graduate student in Spanish who is also from Bushwick, said she had decided to join the protest out of "dissatisfaction with the economy."
Soon lines of police officers wearing helmets arrived at the plaza. They stood in ranks near Water Street as the protesters gathered in a circle and held a meeting.
One organizer, Austin Guest, urged people to travel in groups for their own safety.
"Hey, everyone, we're going to shut down Wall Street today," he shouted as the protesters clapped and cheered. Mr. Guest warned that arrests were possible.
"Our target is William and Wall Street," he said. "We are going to split up and assemble back there."
Near Water Street police commanders wearing white shirts consulted and officers on horseback lined up in a row. The protesters continued to discuss their plans and announced in unison a telephone number for legal help, which many of them wrote with markers on their arms.
Late in the morning the various marches disbanded and many protesters gathered between Bowling Green and the National Museum of the American Indian, where they held meetings and planned for the afternoon.

Joseph Goldstein contributed reporting.
Article source: http://cityroom.blogs.nytimes.com/2012/09/17/protests-near-stock-exchange-on-occupy-wall-st-anniversary/?partner=rss&emc=rss