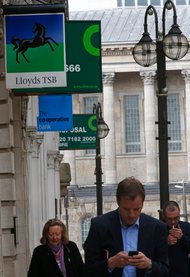 Darren Staples/ReutersBranches of Lloyds Bank and the Co-Operative Bank in Birmingham, England.
LONDON – The Lloyds Banking Group said on Wednesday that it was planning an initial public offering of part of its branch network after a deal fell through to sell the division to a rival British lender, Co-operative Bank.
The failed deal is the latest in a series of setbacks for British banks, which are looking to shed noncore assets and increase capital reserves in response to new regulatory requirements and sluggish growth across Europe.
The European Union had set a November deadline for Lloyds, in which the British government holds a 39 percent stake, to sell about 630 branches as part of the conditions for receiving government support. The bank received a multibillion-dollar bailout during the financial crisis.
Royal Bank of Scotland, which also received taxpayer money in 2008, is also considering an initial offering of some of its branch network after failing to reach a deal to sell them to the Spanish bank Santander. Other British lenders, including Barclays and HSBC, are cutting underperforming divisions in an effort to improve profitability.
While Lloyds had reached an initial agreement last summer to sell the branches for up to $1.1 billion, Co-operative Bank said it had now decided not to buy the network because of sluggish economic growth and mounting regulatory oversight of Britain's financial services sector.
"We are disappointed that the Co-operative Group is unable to complete this transaction," the chief executive of Lloyds, António Horta-Osório, said in a statement. "We will now proceed with the option to I.P.O. the business."
Shares in the Lloyds Banking Group were up slightly in afternoon trading in London.
The British bank is scheduled to report its first-quarter earnings on Tuesday and did not say when the potential I.P.O. might take place. The unit, to be named TSB Bank, has just under five million customers and 7,000 staff members across Britain.
The markets may prove receptive to the new offering. Despite renewed uncertainty about the sovereign debt crisis in Europe, investors have been flooding into equity markets in the hopes of high returns.
A number of new I.P.O.'s, including the $1.9 billion raised by the telecommunications company Telefónica Deutschland late last year, has raised hopes that Europe's capital markets could be slowly opening for business after years of anemic appetite for new listings.
The decision by Lloyds to tap the public markets instead of selling the branches to Co-operative Bank comes after almost a year of negotiations.
The potential sale would have more than doubled Co-operative Bank's network, though regulators had raised concerns that its top executives might not have had enough expertise to manage the expanded business.
The potential transaction "offered a significant opportunity to the Co-operative," the firm's chief executive, Peter Marks, said in a statement. The deal, however, "would not currently deliver a suitable return for our members within a reasonable time frame and with an acceptable level of risk."
Article source: http://dealbook.nytimes.com/2013/04/24/lloyds-plans-i-p-o-after-branch-sale-collapses/?partner=rss&emc=rss