CATHERINE RAMPELL
Dollars to doughnuts.
It's not your imagination: Jaydens, Aidens, Ethans and Masons really are taking over, at least among baby boys.
On Thursday, the Social Security Administration released its annual list of most popular baby names from the last year. Within the top 10 names for boys were the names above, which, as you may note, all end in the letter N. Names ending in the letter N have become phenomenally popular in recent years — so much so, in fact, that they have dominated the list of the top 1,000 boys' names.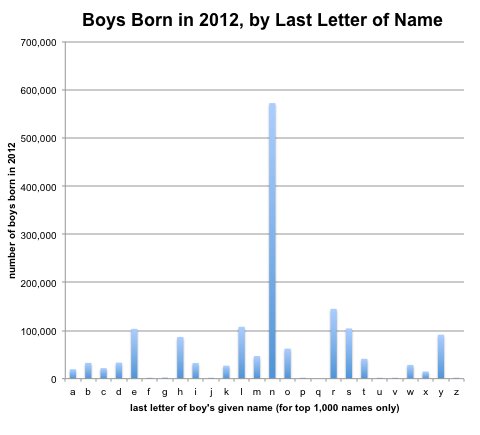 Source: Social Security Administration
The chart above plots the total number of babies born who have a name in the top 1,000 list in 2012, sorted by the last letter of their name. Laura Wattenberg, creator of babynamewizard.com, first conducted this last-letter name analysis a few years ago. Using a longer-tail list of boys' names — all names given five or more times in 2012, which totals the top 14,162 names for boys — she estimates that more than a third of all baby boys born in 2012 had a name that ended in N.
Some of these N-names are falling in popularity. "Braeden," for example, fell over 100 spots last year to No. 581 in 2012 from No. 476 in 2011. But these N-names are still hugely more popular than they were decades ago. Here is Ms. Wattenberg's chart for the distributions of names for boys born in 1950, sorted by the last letter of their given name: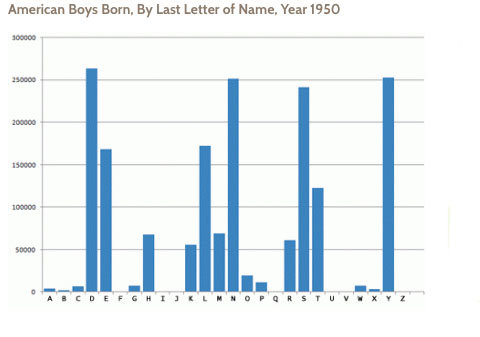 Courtesy of Laura Wattenberg, babynamewizard.com.
As you can see, there was a large cluster of N-names, but still more equitable distribution among a few other letters, particularly D's, S's and Y's.
For more data analysis on baby names, I suggest Ms. Wattenberg's blog and a "Freakonomics" excerpt on the trickling-down of baby names from higher-income families to lower-income ones. The Social Security Web site also lets you track a name's popularity over time.
The Social Security site also lists the top five names each year over the last century. Jacob has been No. 1 for 14 years  now for boys. Sophia has been the top girls' name for the last two years.
Article source: http://economix.blogs.nytimes.com/2013/05/10/jaydens-and-aidens-are-taking-over/?partner=rss&emc=rss