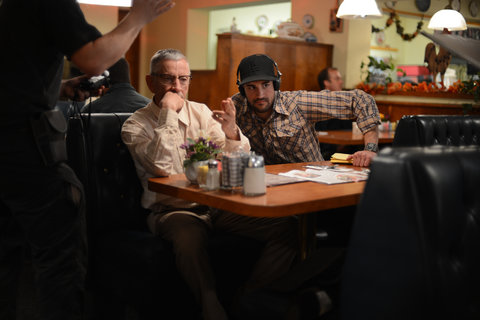 Gregory Smith/Chapman Entertainment Scott Glenn, left, on the set of "Trigger," with the movie's director Basel Owies, a 2010 graduate of Chapman University.
Venture philanthropy? Social entrepreneurship? Robert L. Bassett, dean of the Dodge College of Film and Media Arts at Chapman University in Orange County, Calif., said he still wasn't sure how to label it.
But Mr. Bassett is finally in the thick of his college's experiment in moviemaking for profit, via an adjunct studio, Chapman Filmed Entertainment, of which he is chief executive. The idea is to make movies directed by Chapman alumni, with crews composed largely of alumni and students.
And the lessons are piling up.
"We're shooting in Montrose today for $10,000 a day," he said recently of a first feature that is already a little more expensive than he intended.
It is a thriller called "Trigger," directed by Basel Owies, a 2010 Chapman graduate, with Scott Glenn in a leading role. The budget, Mr. Bassett said, is about $1.25 million — somewhat outside the $250,000 to $1 million target that was set after Chapman announced its new studio in 2011.
"When students are working for nothing, you can't trim the budget by cutting days," said Mr. Bassett, describing the special challenges of containing the cost of a film on which many students are already working for about $8 an hour.
He noted that a similar filmmaking venture at the University of Texas, called Burnt Orange Productions, faltered in a weak market after making four movies in the middle of the last decade.
But the Chapman investors are all stakeholders in the university, he said, and they have been schooled to regard their support, in part, as a lift for the film program and its graduates.
Still, the goal is to make some money by producing a full slate of five or six films — provided Mr. Bassett can manage what he acknowledges is the "hard part," finding a distributor.
He has already called at Lionsgate and Screen Gems, where executives told him to come back when he had a finished movie to show. Failing that, he said, there's always video on demand.
That, he has already learned, is "where you get no money upfront."
Article source: http://mediadecoder.blogs.nytimes.com/2013/03/24/chapman-university-creates-moviemaking-program-aiming-for-profit/?partner=rss&emc=rss